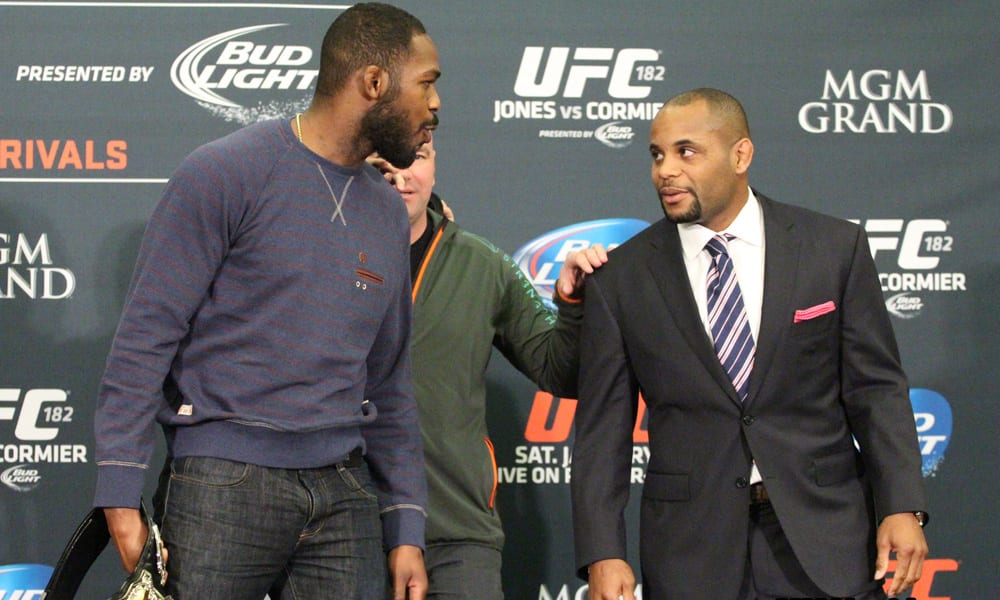 Jon Jones and Daniel Cormier have a rivalry found more frequently in movie scripts than sporting competition.
The two men have one of the most storied relationships in mixed martial arts history, with repeated twists and turns that come together to create a compelling story from beginning to end. And in a sport where conflict is increasingly fabricated, to see not just genuine dislike between two fighters, but real adds a layer of drama and gravity that could make any fight captivating.
Everything about Cormier and Jones is disagreeable. Their dislike for the other driven home by their unbelievable contrast in characters, even in physical appearance: the short, squat Cormier representing traditional family values and olympic pedigree faces the taller, lean Jon Jones with a history of drug use and party boy antics.
Everything about their opposite personalities creates theatre, and every interaction they share provides drama.
We've seen similar dynamics before, of course. Similarly in the light heavyweight division, Ken Shamrock and Tito Ortiz brought in a new level of profile to the UFC, and that feud — much like Cormier and Jones — had the same air of an old veteran infuriated by the young buck.
Unlike nearly every other rivalry in the sports history, however, Cormier and Jones' hatred is equalled by their undeniable skill. Genuine cases could be made for both men deserving the moniker of pound-for-pound best, and while Cormier rightfully faces questions after losing to Jones, the fact that the duo share a combined record of 41-2 (and one of those losses owns an asterisk) says plenty.
The two will meet for just the second time this weekend at UFC 214, and it could be argued that repeated and forced delays to the fight has perhaps lightly dampened fan excitement — particularly after everything was lined up for a storyline culmination at UFC 200.
But, no matter that disappointment, take a moment to consider the timeline: The rivalry begun, punctuated with a hotel brawl and off-air complaints. Jones won the first bout, only to double down on his prior comments at the end of the contest with a crotch chop and the public statement that "I do not like DC."
Then, Jones had his most egregious personal issue to date. Running a red light, crashing into a pregnant woman's car and fleeing the scene left the talent on the outs, from where he was forced to watch Cormier win the title he never lost. In Jones' absence, Cormier cemented his position as champion, defeating Gustafsson in an epic that turned his gold legitimate, only for Jones to return and attempt to claim the title he never lost.
It's sporting theatre at it's finest, and for fans to have such a narrative combined with genuine elite skill is a rare, rare treat indeed.
Comments
comments