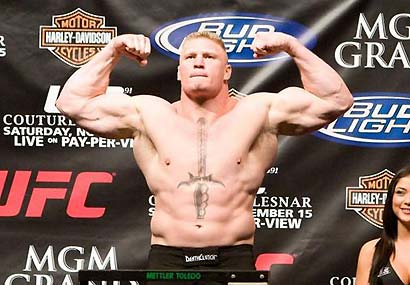 Recently, there have been rumours about the UFC looking to put together a Jon Jones vs. Brock Lesnar fight sometime in the near future. While some remain skeptical they'll ever see it, ask the two men named and they appear to be, at the very least, interested.
In a Facebook Live video yesterday, Jones was asked about the rumours and if he would accept the fight. His answer was unwavering.
"I would love to fight Brock Lesnar," Jones said. "He's a massive dude. I mean, it would be a massive draw. Really big for the sport. It'd be a great challenge. That's a big ol' boy. I doubt Brock Lesnar would take that fight, though.
"I definitely wouldn't try to wrestle with him the whole time," he continued. "I'd be.. you know, I'm not going to tell you what I'd do."
So with Jones on board, all we needed to hear was from Lesnar, and wouldn't you know it, the notoriously quiet former heavyweight champion released a comment; it's an emphatic yes from him.
 "Would I fight Jon Jones? Anytime, anywhere," Lesnar said to the Associated Press. "Right now he should be worried about D.C. on Saturday night."
Lesnar hasn't been seen in the Octagon since his recent comeback at last years UFC 200. Following his victory over Mark Hunt, Lesnar was found to have banned substances in his system, and as such was suspended from competition. He retired in February of this year.
Comments
comments