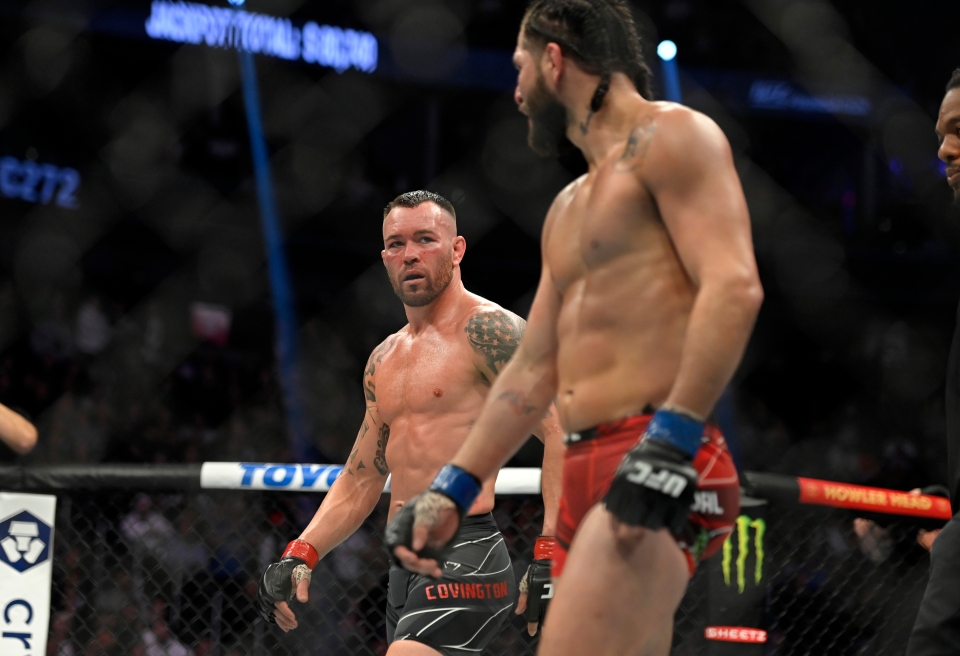 Jorge Masvidal has a plan to overcome his loss to Colby Covington but he admits that the defeat to arch-rival stings.
Masvidal was conclusively beaten by his former friend and training partner in the main event of UFC 272 in early March, losing a lopsided decision on the scorecards after a 25-minute battle most dominated by Covington and the constant threat of his elite wrestling. Masvidal did find occasional success, such as dropping Covington to one knee with a flush right hook, but was largely unable to build upon any of his successes.
The loss was highlighted days later when Masvidal was arrested for allegedly attacking Covington on the street outside a Miami restaurant — but while he didn't address those legal issues, 'Gamebred' did open up on his loss at UFC 272 while speaking to to Logan Paul on his podcast, as noted by MMA Fighting.
"I was f****** irate," Masvidal said of his emotions after the Covington fight. ""I was upset, and I just like to be in isolation when I get like that. It's better for me. Take a couple days to figure it out and if I have a problem and I can't figure it out, f***, then it's a real problem. I could fail at something, but if I could find a way to fix it, then I can go back and address it again, then I can sleep with peace at night.
So that's what I did — five, six days in that nowhere land, like, 'F***,' and then I came up with a plan, and now I'm gonna execute that plan."
And the plan? A whole lot of wrestling training.
"Get right back to work, in a different way," he said. "I've been doing this sport for quite a while … so I do have a lot of data that I can use to go back on and start to dissect that and see what works and what doesn't going forward, to solve these riddles. I've had a problem with wrestlers. It's a couple times that I've had the problems. Not just a guy who was decent, [but] the more standout wrestlers, I've had a problem.
"With wrestlers, when they take me out of my element, and they're able to keep pressing that hugging game, even when I do bring it to a neutral, I'm like, 'F***, I spent a lot of extra power doing that.' So knowing these things, I have a slight different plan and formula going forward to address these problems that I've had most of my career with the f****** wrestlers.
"The best program in the country currently, for the last 10 years, is Penn State. I've got some good friends over there, so I'm gonna go spend some time in Pennsylvania, wrestle in the morning, wrestle at night, wrestle in the morning, wrestle at night, and stay doing that, because I don't feel like I have to work on my boxing — not to be cocky — or my kicking. It's there any time. I've just got to sharpen it up before fights. So one of my main plans right now is go wrestle day and night and see what comes out of it.
"Then come back to the sport of MMA and see where I'm at. I don't know how long that journey's gonna take me. I don't know if I'm gonna go there six months or six weeks until I get that breakthrough, but I know it will come from just being in there."
Masvidal says that his return to the cage will only come about once he is satisfied that he has earned his spurs in the wrestling room. After that? It's time to show off his new skills.
"I'm just gonna go sharpen these tools," he explained. "Just wrestle, wrestle and f****** see what comes out of it. And once I feel I've improved, I've leveled up, I've f****** hit a Super Saiyan on everybody, we'll find out who I'm gonna f****** murder."
Comments
comments