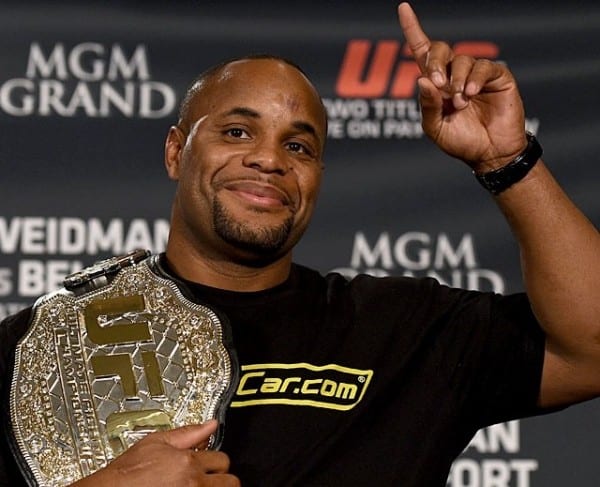 It has long been expected due to his repeated assurances on this matter that Daniel Cormier was going to step away from mixed martial arts by the date of his 40th birthday on March 20, however he says that recent niggling injuries have forced him to concede he will fight beyond that date as he identifies the final challenges of his illustrious career.
Cormier fought in three title fights in 2018 — the last of which teased an upcoming heavyweight title match with a potentially returning Brock Lesnar, the type of 'money fight' which few would deny the champion's right to pursue. And with Stipe Miocic, and even Jon Jones, hovering in the periphery Cormier said to The MMA Hour via MMA Fighting that a back injury is putting his plans on walking away into the sunset on ice.
"I hurt my back in New York City when I sneezed. This was no joke and it's just still trying to rehab it and get better," Cormier said. "It was just me hurting my back. I put a lot of miles on myself in my life with the wrestling, but then last year was a big year and you don't get to have that type of year at my age and not really feel the effects of it and I'm still going through that right now."
Cormier's last fight against Derrick Lewis at Madison Square Garden in November was something of a rushed affair. Difficulties on the UFC's part to schedule a main event led to them asking Cormier to defend on a month's notice, something which caused various hand injuries to flare up. This, Cormier says, was evidence that he can only compete at full fitness, or closer to it, from now on.
"I just don't know if I'm gonna do what I did in New York again, where I have to fight where I'm not 110 percent," Cormier explained.
"Because I truly do feel like the reason my back went out was because I went from zero to trying to prepare for a fight in three weeks and I can't really do that. I need those first four weeks of a pre-training camp just to prepare my body to go through a full eight-week camp. I used to do 12 weeks, I did all that in four and that's why my body started falling apart on me.
"12 weeks and I'm not at 100 percent, so say, I don't know, spring? Summer? I don't know. Not exactly sure yet."
More specifically to his plans Cormier said that he sees two opponents in his crosshairs.
"I think maybe Lesnar next would be the fight," Cormier said. "And again as I've always said, yeah I'll fight Stipe again. It's just the same exact thing.
"We're not waiting for Brock Lesnar. Because of my injuries, I'm just not available to fight. If I was available to fight, I probably would have fought Stipe already. But I'm just not available to fight right now so we'll see what happens with Lesnar and then we'll address what's after that."
Comments
comments