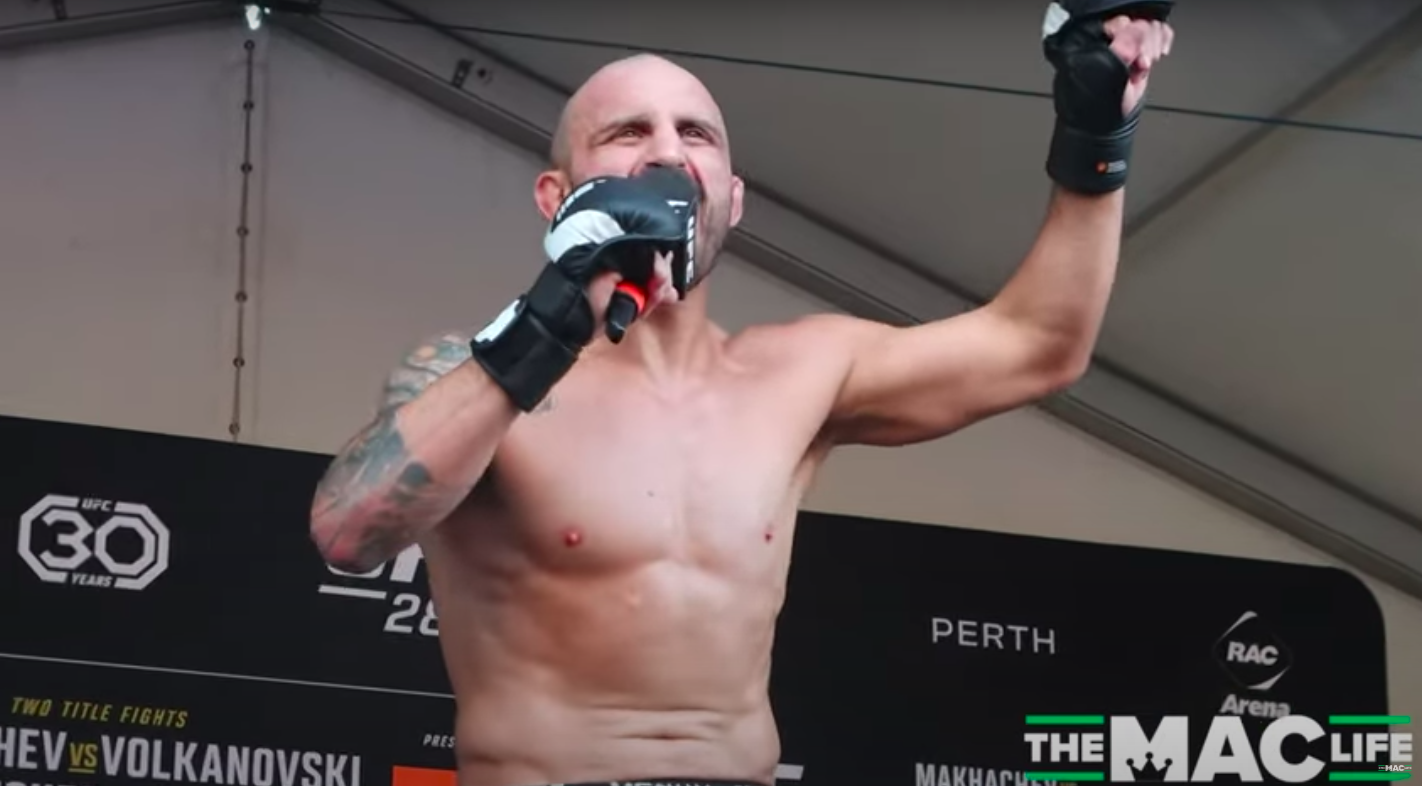 Alexander Volkanovski is aware of the scale of the task awaiting him in the cage in Perth this weekend.
The Australian UFC featherweight champion moves up in weight this weekend to challenge Islam Makhachev for the organisation's lightweight world title in what is expected to be a fiercely partisan crowd supporting their hometown fighter, and after being the outsider in the majority of his fights in the UFC cage — including a trip to Brazil where he defeated legendary featherweight Jose Aldo — he told the crowd at Thursday's open workout that he can already feel their support.
"I don't know if you remember last time I was in there I was getting booed but I remember looking down that camera and saying, 'Everyone back home in Australia, I can see you. I can hear you'. That got me through. I was saying let them boo. The support now; I can obviously hear you now," he said. "It comes with the position, you know? Everyone wants to take either your belt or the pound-for-pound number one spot. I'm coming for his lightweight belt, that's what he's gotta look out for.
"Every time we always say we level up. It's that, what I say, underdog mentality. It's how we all are here, we always work hard — especially here in Australia. Down under, we make sure we do what we gotta do. We're always raising the bar, every single time and put that work on in that gym.
"And again, just remember when I'm out there doing my thing when I get my hand raised, obviously I'm going to hear you but I'm going to feel you — definitely."
The matchup is a unique one which pits the sport's top two pound-for-pound fighters in the world against one another, and Volkanovski suggests that this hierarchy will play out as the rankings suggest as soon as the first bell rings this weekend.
"I'm the pound-for-pound number one and I'm going to show you why out there," Volkanovski said. "I've always said, I might be undersized and that type of stuff. I'm moving up. Yeah, this is a challenge. I love a challenge. I think we should all challenge ourselves. It makes you better, trust me. I'm twice the man I was before this camp. I'm twice the fighter I was. You're going to see that when I take that lightweight belt."
–
Comments
comments