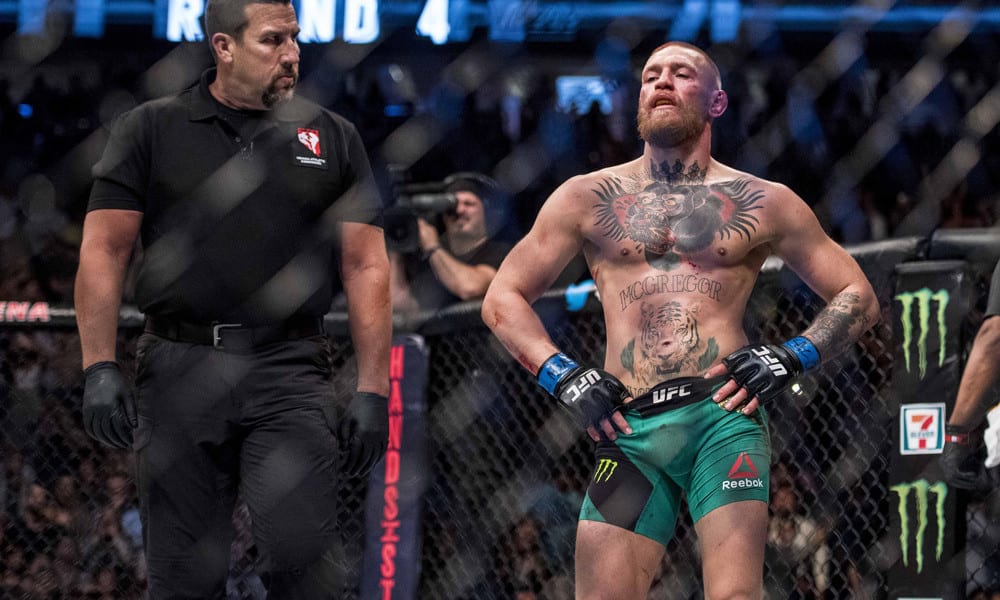 This summer will mark five years since Conor McGregor has competed in his home country but, according to comments from potential future opponent Donald 'Cowboy' Cerrone, the wait may well be coming to an end.
Cerrone earned a second round TKO finish against Alex Hernandez at last weekend's UFC event in Brooklyn in his 30th Octagon appearance, after which McGregor tweeted his congratulations at Cerrone.
"For a fight like that Donald, I'll fight you. Congratulations," McGregor tweeted just after Cerrone was announced as the victor – and it seems like UFC President Dana White is on board for the potential clash.
For a fight like that Donald, I'll fight you.
Congratulations.

— Conor McGregor (@TheNotoriousMMA) January 20, 2019
"Yeah, I mean anything is possible," White said post-fight in Brooklyn on Saturday night. "If those guys want that and the fans want to see it, that's what I do."
The largest outdoor stadium in Ireland, the 80,000-seater Croke Park, has long been held as potential venue to host McGregor's return to action in his native country but licensing restrictions are known to be very prohibitive, particularly if the UFC would prefer to hold the event at a time amenable to the American audience, which likely means that McGregor would fight sometime around 4am or 5am.
The Aviva Stadium, with a capacity in the region of 50,000, would also be an option, as would the 3 Arena, a 10,000 indoor venue which has hosted the three previous UFC events to take place in the Irish capital, as well as a host of events by Bellator, Cage Warriors, BAMMA and KSW.
The first ten bouts of McGregor's professional career all took place in Ireland. As his name began to grow in Cage Warriors, he was shipped off to audiences in England and Jordan before making his UFC debut in Sweden in 2013. Since then, every bout in McGregor's combat sports career has taken place in Ireland with the exception of this UFC Dublin main event opposite Diego Brandao.
Comments
comments