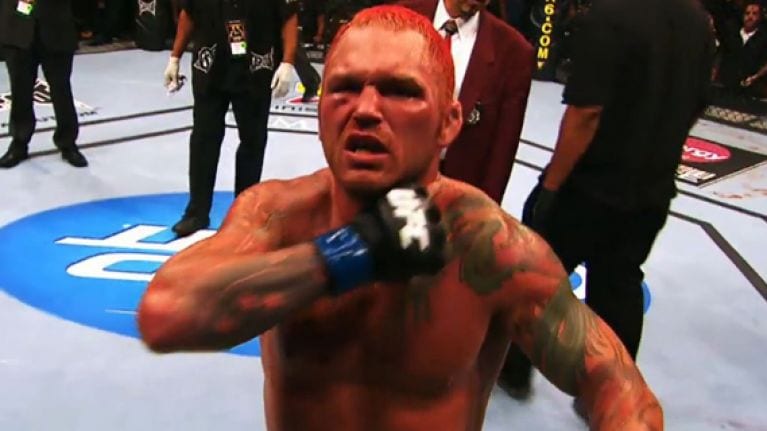 It took a lot to keep Chris Leben down throughout his combat sports career but his ongoing bout with Covid-19 has left him 'grateful' to be alive.
Leben, 41, a cast member on the very first season of 'The Ultimate Fighter', recently detailed that he had contracted Covid-19 and that he had been receiving treatment in hospital since the beginning of February, and has provided an update on his condition in which he said that his lungs had been badly effected by the disease, but that he is optimistic of making a full recovery.
View this post on Instagram
"What up, everybody?" said Leben in the video message which appeared on his Instagram profile. "So that flashing blue number up there is my oxygen. It's going back up now — 91, 92. It was down to 82 a second ago because I just got done trying to go to the bathroom. But yeah, I feel pretty good. I'm off all the other things, I've got no tubes in my body at all right now. The only thing is this oxygen. I think that's what took the most damage, for sure, is my lungs.
"They did say 100 percent of my lungs are damaged, but they also said 100 percent recovery is possible, and I think that's what's going to happen. It's going to take some time, start out slow, but I'm still alive, man. I'm still here. And for that, I'm so grateful. The fact that I get to fight my way back to 100 percent health, that I have that opportunity, is such a blessing. When you're where I was, and you're where I'm at now, I'll tell you what, you count everything as a blessing — even this crappy hospital food, even this jello, blessings.
"I'll tell you, I learned a lot. I learned a lot. It's not that I'm scared to die. It's that I'm in love with life, and I have so much to live for. I have a beautiful child and a thriving new business, and I have family, and I have the greatest, closest friends in the world, that all came together and showed me how much they cared about me during this trying time.
"So, yeah — don't get me wrong, I wouldn't recommend everybody go through this so they can have a sense of gratitude. I wouldn't wish it on anybody. But I learned a lot from this experience, and I'll be back 100 percent. It might take a year, but at least I'm alive, so what's a year? If I was dead, I wouldn't have the opportunity."
Leben retired from mixed martial arts in 2013 with a record of 22-12 but made a comeback to the world of bare-knuckle boxing in 2018 where he won three of four fights, with his last fight — a knockout win against Quentin Henry in February of last year — being the final fight of his combat sports career.
Comments
comments