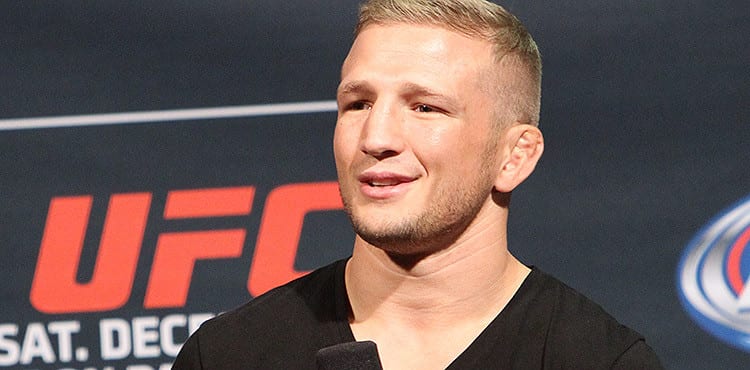 Membership to the 'champ champ' club remains an exclusive one.
UFC bantamweight champion T.J. Dillashaw's bid to become the lateste two-division UFC champion lasted just 32 seconds at Saturday night's UFC event in Brooklyn, as he was TKO's by flyweight king and Olympic gold medalist Henry Cejduo. The result was a particularly bitter pill to swallow for Dillashaw, who had embarked on a months-long, agonising weight cut to reach the 125-pound limit — which he did successfully.
That was about as far as his success went in this particular engagement, however.
Dillashaw never found his feet, as Cejudo pressed forward early. An off-balance Dillashaw was sent to the canvas from little more than a Cejudo shove and, rising to his feet, he was met with a headkick which, while partially blocked, allowed Cejudo the opportunity to land a strike behind the ear of a retreating Dillashaw.
The former Team Alpha Male man (that's a whole other story) attempted to regain composure but was sent to the mat for the final time. The bout lasted just over half a minute — and Dillashaw was clearly not in great humour speaking to the media afterwards.
"Sucks to have it stolen from me," Dillashaw said post-fight. "I worked my butt off. I'm so much better than that. It would be nice to actually get the chance to show it. It's a title fight, it's a champ versus champ fight and you're gonna stop the fight like that? I'm on a single leg. He says, 'Show me something.' I said, 'I'm OK.' I'm on a single leg in a scramble, he stops punching, he's defending a single leg and you're gonna stop the fight? It's just ridiculous, man. It's pretty pathetic that I have better knowledge than that ref.
"As you can tell, I'm a little frustrated," Dillashaw said. "This shit needs to happen again — at flyweight. This is bullshit. I worked my ass off 12 weeks to get here to have it stolen from me in 30 seconds."
Dillashaw went as far as to say that Cejudo should take little happiness from defending his flyweight title for the first time.
"How could you be that f*cking happy over that win?" Dillashaw said. "Obviously, he did not lose his belt, he's gonna feed his family, pay his bills. Good for him. Be happy, yes. But I wouldn't be happy winning that way, that's for sure. I wouldn't call myself the champ champ, I wouldn't call myself the double champ winning that way.
"I'm pretty effin' bitter right now," Dillashaw said. "I'm pretty pissed off. I worked my ass off, bro. I'm about to fuckin' cry. I put in a lot of work. And I don't know, man. It's tough."
Comments
comments