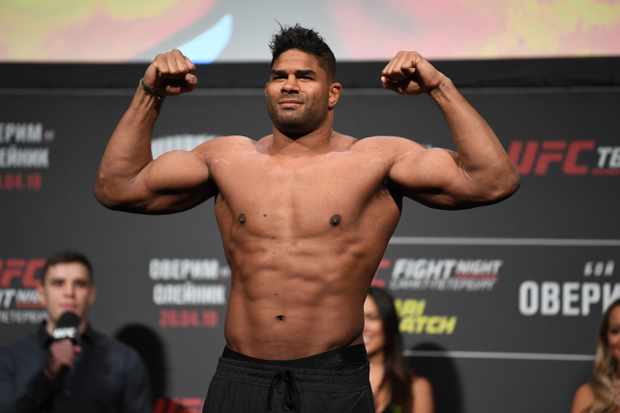 Anyone who witnessed the finish to the recent UFC DC main event between Alistair Overeem and Jairzinho Rozenstruik won't soon forget it.
Through the vast majority of five rounds, the experienced Dutch kickboxer controlled the fight with a measured performance of controlled striking. It worked until it didn't.
With just seconds remaining in the final round, undefeated power-puncher Rozenstruik threw an overhand which sent Overeem sprawling backwards against the cage. The referee called the bout moments later. What's more, replays of the fight-ending strike appeared to show Overeem's lip 'explode' due to the force of the punch — something which was confirmed when close-ups revealed an inch-long gash on his upper lip.
The scar, one suspects, will be a constant reminder of the fight — but even with that in mind, Overeem sees the positive side.
"You can see, I'm almost pretty again. Actually, I am pretty again compared to last week, what was it, 10 days, and I think it's looking great," he said in advance of this weekend's UFC event in Busan, South Korea.
"I did not have any pain, at all. I did not feel any pain," Overeem said of the injury. "To me it was a win, because we beat him every round. The ref should not have jumped in."
Slips cutting like Overeem's upper lip….. 😩😩😩 pic.twitter.com/xcSEhaxRIe

— King B (@kingbellgam) December 14, 2019
The person that stitched up Alistair Overeem deserves a performance of the night bonus. pic.twitter.com/zDUJ8esT4r

— Chamatkar Sandhu (@SandhuMMA) December 19, 2019
"I was not KO'd, I stood back up. It was two seconds left, three seconds left, one second left. I beat him very easy all rounds. OK, I get hit in the last 5 seconds, my lip is damaged. Who cares?"
Furthermore, Overseem says that he established a blueprint for Francis Ngannou to follow when he meets Rozenstruik next year.
"I think I already exposed Jairzinho, I already showed the weaknesses," he said. "I think Francis is gonna have a very easy fight. So I think Francis will take the win there.
"If I had become victorious in the last fight I would be screaming for the title. I think now we need to win two more, then we can start making noise for the title again. Stipe [Micioc] and [Daniel] Cormier is going to be a logical trilogy, but there's also the winner of Francis-Jairzinho, so it's so close now."
Comments
comments