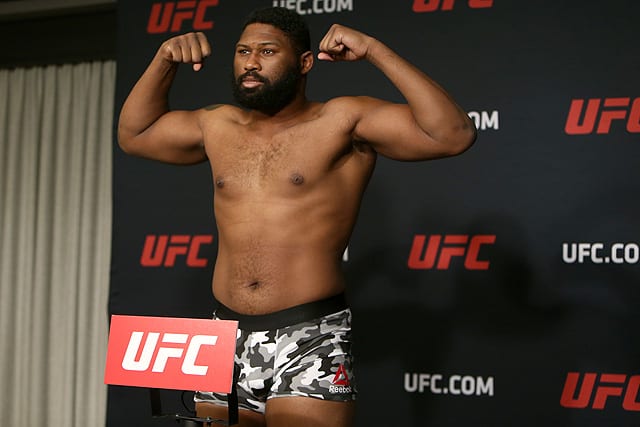 Curtis 'Razor' Blaydes headlines this weekend's UFC event in Las Vegas against Russia's Alexander Volkov but he has suggested that his compensation for the main event fight to be broadcast on ESPN doesn't sit right with him.
Several fighters on the UFC roster have made public their concern with the current pay structure, with the likes of Jorge Masvidal, Jon Jones and others being vocal about the issue. Blaydes says he appreciates the stances of these high-profile fighters who he says are putting their careers in jeopardy to highlight pay disparity.
"We do deserve more money. I'm not even trying to be greedy. We are on ESPN now. That is supposed to mean something," Blaydes told CBS Sports.
"I don't like seeing guys go into a war against one another where both guys are amazing and are fighting for $12,000 [to show] and $12,000 [to win]. It's a little embarrassing. These are top athletes and a lot of them have to have [other] jobs still. If you want this sport to grow, you need to provide more amenities for us as far as training. You can't have guys who are ranked who have to drive for Uber. That's embarrassing."
Dana White, for his part, has spoken about how the UFC was only of the only sports leagues in the world who didn't implement cuts of some kind to help guide them through a loss of income throughout the coronavirus pandemic.
Blaydes, however, isn't buying this.
"I don't want to hear all those excuses, the money is there," he said. "I don't want to hear the excuses. Even if you just bumped us up to like 29% of revenue, that would be a giant raise for guys. I don't want to hear that. If you don't want to pay us, just say you don't want to give us the money. Just say that and don't make excuses like, 'I don't know where it's going to come from.' It's like, bro, don't do that. Don't disrespect our intelligence like that. We are worth more. If you don't want to pay us, just say that and we can make our own informed decisions.
"It's like you trying to pee on us and calling it rain like we're dumb. I know we get hit in the head a lot but we are not dumb."
Comments
comments