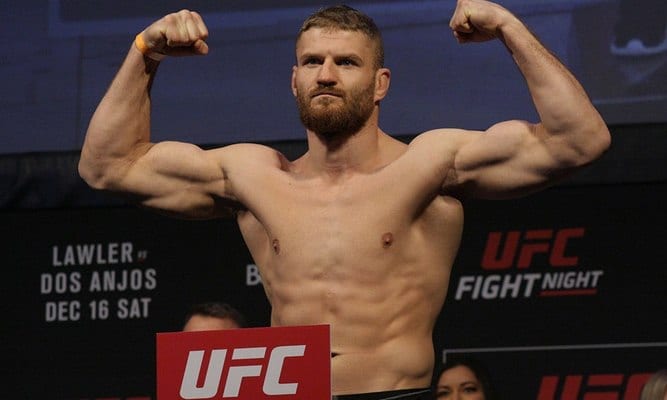 It didn't go his way on Saturday night in Abu Dhabi but Jan Blachowicz is determined that he will work his way back to a UFC title bout.
In truth, the Pole never really got going in the UFC 267 main event. After a recent run of fights which saw him beat the likes of Luke Rockhold, Dominick Reyes and Israel Adesanya, Brazil's Glover Texieira proved too much as he brought the fight to the canvas and quickly sank in what proved to the fight-ending rear-naked choke after the midway point of the second round.
The result meant that Teixeira becomes the oldest first-time champion in UFC history, and the second-oldest in the entire history of the organisation. Not bad for an old man, as Randy Couture might say.
But speaking after the fight, Blachowicz says that he refuses to let this setback define him and has vowed to work his way back to title contention at 205-pounds.
"My performance today was horrible," said Blachowicz to the media in Abu Dhabi, including The Mac Life. "I don't know. I wasn't champion today, he was. He is.
"I don't know, I need time to think about it, but for sure something was bad," he continued. "It wasn't me. I don't want to explain myself, he beat me, everybody see that. It's not over, I'm not a quitter, I will not go anywhere, I will come back here for sure. I need to rest for sure, think a little bit, and for sure I will come back. I'm not a quitter, I'm not a coward, I will not quit. You're gonna see me in the octagon again.
"Everything was okay. The first round I think that he would take me down, but anyway I don't feel bad in this position. I say okay, this round is for him now, the second round I'll start working, I'll do my job.
"But he don't let me do this. He take me down again and submit me. What can I say more? I feel like sh*t and that's it."
But the fact that Teixeira is 42 years old has given Blachowicz some extra motivation that he can again rise to the top of the sport.
"He's three years older than me, so I have some time to get this belt back and that's what I would like to do in the future," Blachowicz said.
"We'll see what happens in the future. I don't know. If it will be a chance to take a rematch, of course I would like to take a rematch with [everyone I lost to before]. First of all, now I don't have chance for rematch, now I need to prove that I have to come back and win a couple of fights."
Comments
comments