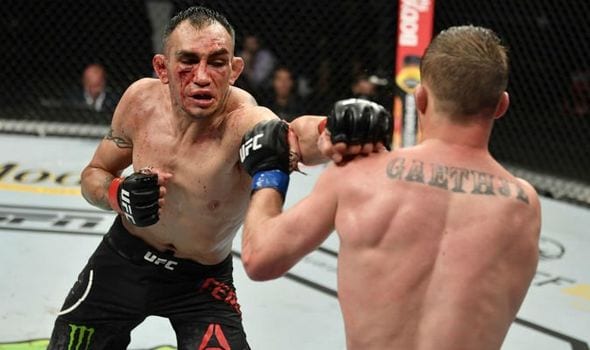 After an eight year, twelve fight run of victories Tony Ferguson has now lost two straight in the Octagon and Michael Bisping suggests that Ferguson's recent downturn in form could potentially be a sign that the he is past his best.
It wasn't a good 2020 for Ferguson. Earlier this year he saw a world title fight with Khabib Nurmagomedov postponed for a FIFTH time, on this occasion due to the onset of the Coronavirus pandemic, and instead took on Justin Gaethje with an interim title on the line.
Ferguson, though, was soundly out-struck for the majority of the fight en route to what was his first defeat since 2012. In his next fight, Ferguson was also routed — but this time on the ground by submission specialist Charles Oliveira.
And the fact that he has lost two straight fights in very different circumstances is a sign that Ferguson is on the wane, says Bisping.
"Against Justin Gaethje he got out-struck and then against Charles Oliveira he essentially for the most part got out-grappled," Bisping said, via MMA News.
"I'm kind of concerned for Tony Ferguson. Of course, he doesn't want my sympathy, he doesn't need my concern, he doesn't want me talking about him like this, but I'm just curious about where he's gonna go now as a fighter and I do feel for him. It's hard. When you're a guy like Tony Ferguson or anybody in the UFC that's at the top of the food chain for so long and you're one of the guys, you're one of the main guys in that division for so long, and then to see this fall from grace if you will, to get dominated two times in a row.
"Charles Oliveira, for all the skill that he has and I said he was massively underappreciated, is not one of the guys that you think of as the stars of the division. He will be now, but he wasn't prior to this fight. I just hope that Tony Ferguson deals with this well, I hope has a good team around him."
View this post on Instagram
Bisping continues, saying that Ferguson has displayed outstanding performances over the years in the cage but that no fighter can expect to maintain such a run as the years — and the damage to the body — continues to pile up.
"I just think the real story of what we're seeing here is the rapid decline of Tony Ferguson because the human body can only take so much and Tony has been such a warrior for the UFC," Bisping said. "I've got nothing bad to say about Tony Ferguson—and what I'm about to say, if I'm Tony, could be perceived as that way and that's not what I'm trying to do—I have nothing but respect for Tony Ferguson. He is a true fighter. He's an absolute warrior.
"He's put on some sensational performances inside the octagon, but he's also taken a lot of damage and often because he's so f*cking tough he's able to outlast his opponents, he takes this amount of damage, and then he puts the hurt on them and he gets the win. And it's always in spectacular fashion, that's why he gets so many bonuses.
"He can still compete and it's only two losses. Back then it was 2012 before he got beat again, but I am posing the question and I do feel that the amount of punishment he's taken over the course of his career is starting to catch up with him."
Comments
comments