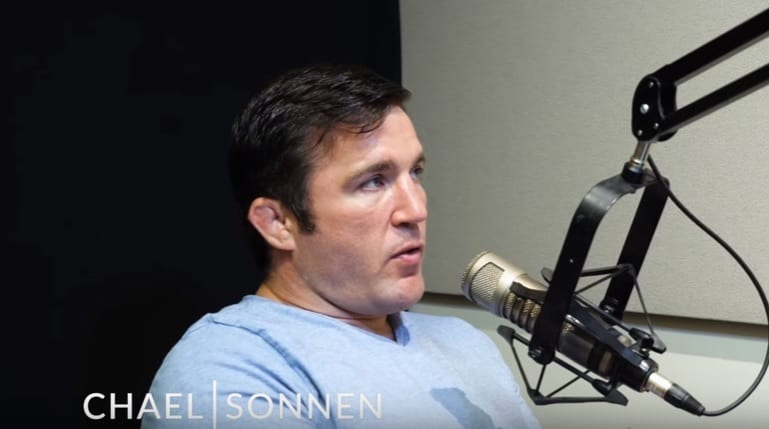 While it remains to be seen just who Khamzat Chimaev will face on what will be his fifth appearance in the Octagon, SBG Ireland head coach John Kavanagh recently pitched the idea of Icelandic submission specialist Gunnar Nelson being next up for the undefeated welterweight contender.
The statement was met with mixed reaction online, presumably down to some fight fans not having Nelson fresh in their memories as he has been absent from the cage for a little over two years — but as just 33 years of age, Nelson remains a potent challenge for anyone in the welterweight frame, and Chael Sonnen is more than down with Kavanagh's suggestion but also admitted that another 170-pounder would also be an ideal opponent.
"That's amazing. I'm in. I'm right in. I feel as though that fight should go to Neil Magny [though]," Sonnen said on YouTube channel, via Pundit Arena.
"In all fairness, Neil Magny spoke up at the right time when he was the only one. That's what I think but I'm not getting my way because Magny asked for it a meaningful amount of time ago. If Coach Kavanagh came out with an opinion, you'd want to hear it. Somebody for Chimaev, you'd want to hear it. This is his own coach. That changes everything."
Chimaev has been near flawless in his four UFC outings thus far, and has already beaten a Kavanagh-trained fighter in John Phillips, but Nelson has more than once slammed the door shut on the momentum of up and coming fighters like Brandon Thatch and Albert Tumenov during his UFC run — and Sonnen says that on his day, he could have been considered the best welterweight in the world.
"I could go back and watch Gunnar film and I could point out, 'OK, on that night and other points on the calendar where he would have been the champion of the world,'" said Sonnen. "I could take guys at 170, who won the belt on certain evenings, that would not have beaten Gunnar Nelson on certain nights.
"Gunnar is also terribly consistent. People think that he's not, you're wrong about that but he consistently has problems with one position. I'm not going to say what that is, Gunnar knows what it is, Coach Kavanagh will know, those guys can work on it but I'm only sharing with you, he is very consistent.
"Forget the whole damn story, Gunnar Nelson's coach wants Gunnar Nelson in there with Chimaev. What else do I need to tell you? I do need to see the first 30 seconds of that fight. Is Chimaev going to see through those attacks, eat one hard one and deal with it? I need to see that he can do that, because if he's not, he's on his feet."
Comments
comments