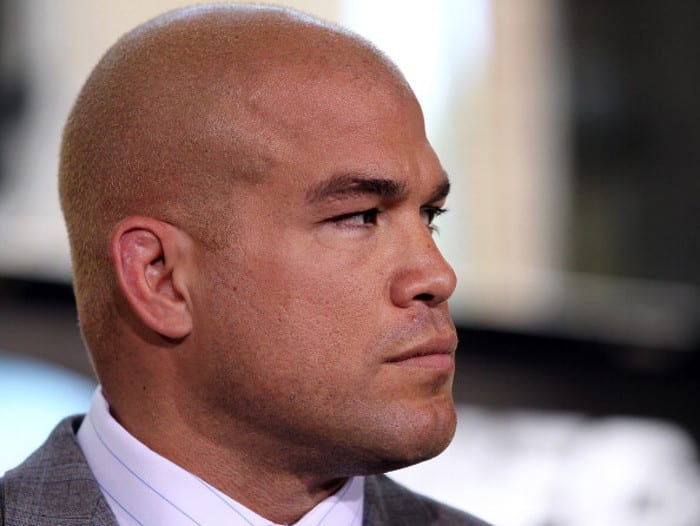 The twilight of Tito Ortiz's career is proving be somewhat of a successful one.
The former UFC light heavyweight champion, 43,  has won four of his last five bouts. Most recently, he knocked out a 48-year-old Chuck Liddell in a bout largely described as a farce by those who witnessed it. Prior to that, though, he submitted a legit opponent in (more often than not middleweight) Alexander Shlemenko, earned a decision (split) against former UFC midcarder Stephan Bonnar and, perhaps most impressive of all, another submission against three-time UFC title contender Chael Sonnen.
And if you ask both men, they would like the chance to go at each other one more time.
Their first meeting was a brief one. Ortiz submitted Sonnen a little over two minutes into the fight, though the losing fighter would claim that his opponent used the famous veteran 'phantom tap' when Sonnnen was threatening with a submission of his own. Whether or not that is true, Ortiz says he won't be playing the submission game should they get back in the cage with each other.
"I'm gonna pummel him for 3 rounds. I'm gonna smash Chael," Ortiz said to TMZ of the potential rematch.
Hey stupid, @titoortiz straight up. Do you want to fight or not?

— Chael Sonnen (@ChaelSonnen) January 7, 2019
The truth is, I brought a guy into camp to mimic Tito's style. We got in the ring and I said go. He went to throw a punch, so I got out of the ring and asked them to call me back when it was time to duck. https://t.co/Sh4cNotlKJ

— Chael Sonnen (@ChaelSonnen) January 8, 2019
While a so-called 'Legends Division' has been spoken of by fighters (most of whom are north of 40, by the way — you rarely hear of a young fighter saying that they want to fight in their 40's) it seems that it has become something of a de facto thing. Vitor Belfort has flirted with a deal with Oscar De La Hoya's Golden Boy Promotions, the producer of Ortiz vs. Liddell III, and numerous other fighters have expressed intentions of fighting into their 40's, long after the supposed athletic prime has dwindled.
However, ever the contrarian, Ortiz has also stated that he may just 'stay retired' but the recent callout by Sonnen appears to have stoked some flames.
"He started it," Ortiz explained. "As Chuck started it. And Chuck only lasted what? Four and a half minutes? He called me out man. I'm gonna stay in retirement. I'm still gonna stay retired, and I'm gonna smash Chael. I'm not gonna choke him, I'm not gonna submit him, I'm gonna smash him. I'll put a show on for every one of the fans. That's what I'm gonna do."
Comments
comments