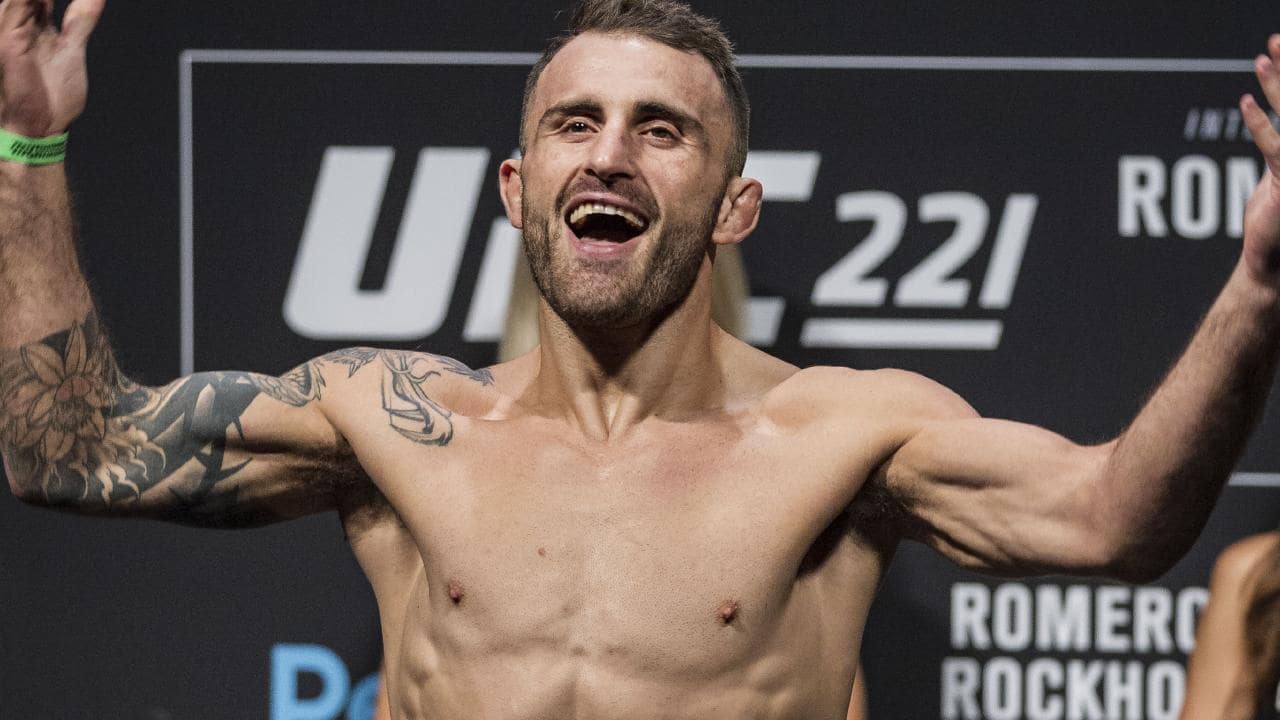 Ahead of his the biggest fight of his professional career, featherweight title challenger Alexander Volkanovski isn't letting his positive feelings about champion Max Holloway distract from the task at hand.
The Australian fighter is a perfect 7-0 throughout his UFC tenure thus far (20-1 overall), having knocked off Jose Aldo and Chad Mendes in his two most recent contests but faces a different kind of challenge in the undisputed 145-pound king this weekend. For one, Holloway has been unbeatable in the division since losing a decision to Conor McGregor more than six years ago but in addition to that Volkanovski says that he comes into the fight with a high degree of respect for his opponent.
"Max is a cool dude," he said via Fansided. "He's a respectful, humble dude, humble champion. He has been like that with all his opponents and I'm the same. I'm not going to pretend there's bad blood for no reason."
View this post on Instagram
A statement like this comes in harsh contrast to the back-and-f0rth landslide of insults which has characterised the build-up to the main event between Kamaru Usman and Colby Covington and the Aussie says that he is perfectly content not taking part in a public feud with his opponents.
"Let Colby and Usman get their words in," Volkanovski said. "If that sells more seats and it gets more pay-per-views, then that's good, no worries, but at the same time, I'm just going to be me, Max is going to be him and we're just going to put on a show. Let them draw the crowd, if that's what people want to see, and we'll steal the show.
"Max, he's a cool dude. He's a great champion, so I'm going to tell everyone he's a great champion. It doesn't mean I'm not going to punch his face through the canvas come fight time. That's not me trying to talk [expletive], that's just at the end of the day, we're in a sport, he's an opponent and another job that needs to be done and my job is… I don't like the word 'fighting' but we still got to get out there and fight."
If indeed it is Volkanovski who gets his hand raised when all is said and done late on Saturday, it seems that he would be happy to model his own title reign on that of the man that came before him.
"Someone that I think that sets a good example as a champion is Max Holloway. I really do believe that… Everyone loves him. He's a great champion and he's still marketable. Some people got this thing where they think you have to talk crap to be popular. That's not the case. If you are a great champion, people are going to like you. And even though I got to fight this dude, I got nothing but respect for him."
When it comes down to it, Volkanovski says that he feels that his path to UFC gold has almost been predetermined. Everything, he says, in his fight career has combined to afford him this opportunity. And he says that nothing can stop him.
"Sometimes I swear things are just meant to be," he said. "It just seems this way.
"I was always destined to be where I am right now. I think it goes a lot further than me just winning this belt. I think that I'm destined to be one of the greats. I can't wait to see where this journey takes me."
Comments
comments