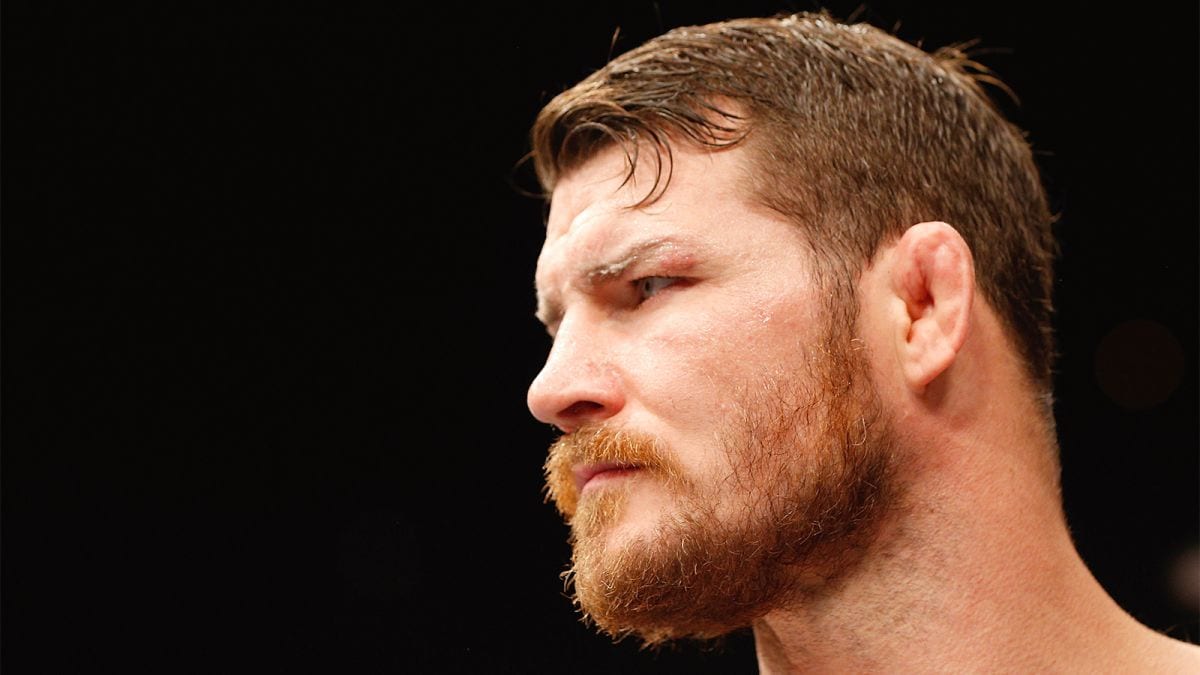 While he has known this day was coming for quite a while, Michael Bisping says that the transition to retirement will be a difficult one to digest.
The former UFC middleweight champion had been vocal in his desire to leave the sport in front of the fans in his home nation, first targeting the UFC's March card in London and then the late-May trip to Liverpool for his final bout. In the end though, it was Bisping's first round knockout at the hands of Kelvin Gastelum in China last November — three weeks removed from his title defeat to Georges St-Pierre — which was the Brit's final combat expression.
"My knee still gives me problems," Bisping said of his litany of injuries to Ariel Helwani on The MMA Hour via MMA Fighting on Monday.
"I'm still getting treatment on it three times a week, and that doesn't seem to be getting better. I'm almost 40 years old as well. Forty years old. I've had more fights than anyone in the UFC, I've had more wins than anyone, I've won the belt, I've made some money, I've fought literally all over the world. What more is there to do? You would be a fool to carry on."
However, while Bisping recognises that the time was correct to step away from the sport which defined his career he says that this realisation doesn't make the transition any easier.
"Now, that doesn't mean I'm not going to miss it terribly. I'm going to miss it every day. Every time I watch a fight, I'm going to wish I could do it. So, I will miss the sport terribly, I'll still train, still keep in shape. I'll probably still flirt with the idea of having a fight again, so that why I told the UFC to take me out of the USADA testing pool, so it's not just as easy as saying I'll fight next month. No, I've got to go through the testing pool again, so I'm officially retired on all fronts.
With the Gastelum loss now frozen in time as his final fight, Bisping says that he is now able to recognise that taking a fight just three weeks after losing to St-Pierre in New York wasn't a smart move.
"It would've been the perfect ending, I guess, to fight a legend like Georges St-Pierre in Madison Square Garden, lose the belt and then say, 'You know what, I'm retired.' That would've been perfect," Bisping said. "It would've been. But first and foremost, the reason why we do this, we take fights and we take these risks, is to make money. That's what we do them for and that's why I started doing this.
"My goal when I got into the fight game was, hopefully, because I left school at 16 — my goal was to make enough money from fighting to be able to go to college and get a trade, or get some kind of training in something so I could get a decent paying job. That was my goal, and it far exceeded those expectations. So the point I'm making is, I do it for money, and I was able to get a quick turnaround, no fight camp, nothing like that, and go into that fight.
"Now, looking back in hindsight, it was a big mistake. I was over-trained. I was malnourished. I was weak as a f*cking dog. I was. Sh*t, I remember I was Shanghai and I looked myself in the mirror and I'd lost all muscle tone and stuff. I'm going, 'Jesus Christ, look how skinny and pathetic I look.' It was just too much. But it is what it is, I still thought I could beat him, and I still think if I was to take a rest and have a proper training camp, I could've won that fight.
"But fair play to him, he caught me and well done. So yeah, no regrets."
Comments
comments