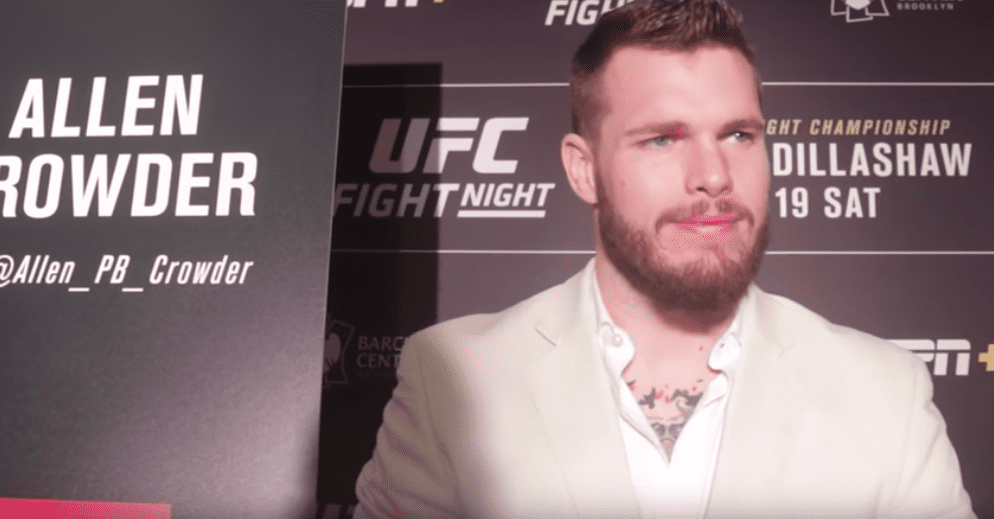 Whether UFC brass are ready to admit it or not, there has been a great deal of interest in this weekend's UFC Brooklyn event given Greg Hardy's placement on the card.
The former NFL player, who was embroiled in a high profile case regarding domestic battery, is set to make his official UFC debut this weekend with numerous media outlets questioning the UFC's wisdom in having his debut on the same card in which Rachael Ostovich, herself a victim of a domestic violence incident late last year, will compete against Paige VanZant.
While Ostovich maintains that she has no issue with Hardy and that she had a productive discussion with him backstage during fight week, it is still a source of controversy but something that Allen Crowder, Hardy's opponent this weekend, says that he has to put to the back of his mind.
"I'm not God, I can't judge the guy," Crowder said to The Mac Life.
"Obviously I don't agree which what he done in his past. That's something he's going to have to deal with the rest of his life. I hope he gets right with God and everything else. That's on him.
"I've got a lot of people hitting me up, people I don't know, saying 'Hey, knock this guy out, make him pay for what he done'. I want to get that knockout. That's the goal going into this thing. I want that limelight. A win is great, obviously I want the win, a knockout is really going to through me up there. The guy has knocked out his last five opponent; when I knock him out, boom, my name gets thrown up there and I'll be back up here in the co-main event or possibly the main event after this."
Hardy's six mixed martial arts bouts (three amateur, three professional) have yielded six wins — five of those inside the first minute of the first round. Crowder, meanwhile, has posted a 9-3 professional record of his own which includes four knockouts in his last five fights, with three of those wins coming inside the first frame and while he says that he has to be wary of walking into Hardy's power punches, he sees himself as having the fight IQ necessary to turn the contest in his favour.
"He's got a hell of a right hand," Crowder explained. "He's a super-athlete. Obviously in the NFL you've got to be an athlete. I'm going to be the guy he don't run through. He's not going to run through me like he's done all these other guys. They made terrible mistakes and the mistakes they made, I'm not going to make."
Comments
comments