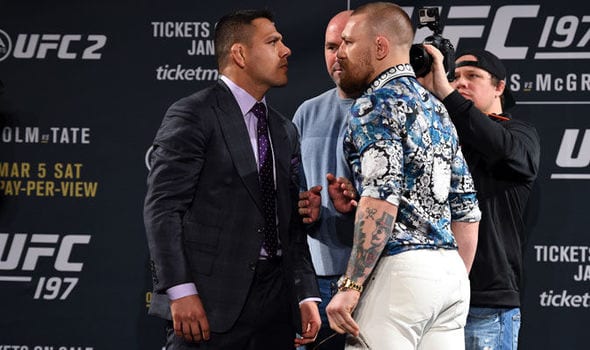 After five rounds of mostly one-sided action (and despite one very controversial scorecard) Rafael Dos Anjos' return to lightweight after eight fights at welterweight was a successful one after the former 155-pound champion bested short-notice main event replacement Paul Felder at the UFC's Apex facility in Las Vegas.
Felder, who took the fight on five days notice after original headliner Islam Makhachev withdrew, struggled to match Dos Anjos' pace and despite offering up respectable resistance throughout, it was clear that the scorecards would balance in the Brazilian's favour. Or so we thought.
Two judges quite correctly scored the fight for Dos Anjos (50-45) but another, Chris Lee, who has a history of being the dissenting voice in split decisions this year, awarded the fight to Felder by a score of 48-47. Despite the disparity, Dos Anjos was awarded the split decision win.
Afterwards, Dos Anjos wasted little time in sending a challenge to another former lightweight champ.
"I think if Khabib [Nurmagomedov] is really retired, it will leave the division wide open," Dos Anjos said. "If you look to the contenders, I think only me and Conor [McGregor], we are the only real champions in that division. Everybody else is all interim champions. I think if the division is open, me and Conor is the fight to make."
Dos Anjos and McGregor were scheduled to meet several years ago when RDA was that reigning lightweight champion but he withdrew shortly before the fight after complaining of a foot injury. The fight instead went to Nate Diaz.
McGregor, though, was open to rescheduling the Dos Anjos fight and responded to the Brazilian's callout on Twitter.
Respect to both men for making this fight and event happen tonight.
Good fight!
I'm in for sure.

— Conor McGregor (@TheNotoriousMMA) November 15, 2020
Dustin first, but I'm down for it all. Throwback to this classic lol.
Look at Dana hahahah
Vintage MMA entertainment.
El Chap! pic.twitter.com/GiC3yl8HB6

— Conor McGregor (@TheNotoriousMMA) November 15, 2020
–
Comments
comments