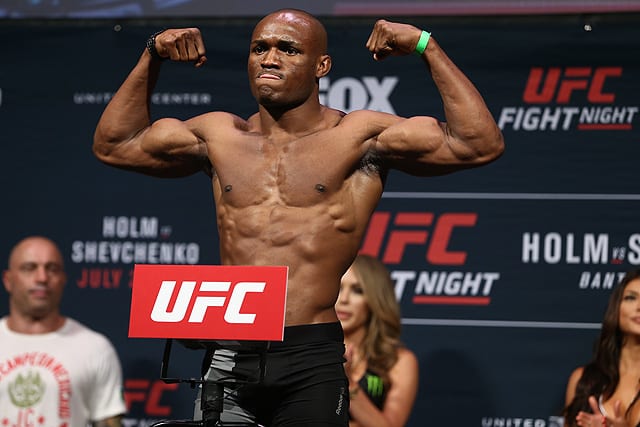 They may have spent many an hour on the practice mats together over the years but there are no friends in world title fights, says UFC welterweight champion Kamaru Usman ahead of his fight with Gilbert Burns this weekend.
The two men have spent the best part of a decade in and around the same training facilities, often helping each other prepare for fights but now with the former teammates set to do battle for the UFC's 170-pound belt Usman says now is the time to prove why he is considered by most to be the best welterweight fighter on the planet.
"I'm the king of the hill," said Usman via MMA Fighting. "I'm sitting up at the top. He's the one who picked the fight. These are the guys who say 'we want what he has.' So when you want what I have, I have to defend that. I have to go in there and show them why I'm sitting at the top.
To do so, Usman will have to put a cap on Usman's six-fight win streak which has seen him bypass the likes of Tyron Woodley and Gunnar Nelson en route to his world title opportunity — and having spent so much time spilling blood and sweat in the training room with his opponent this weekend, Usman admits this fight comes with a little extra flavour.
"I will say it's definitely different because you've felt them. You know the areas where you kind of had the upper hand and they know that as well," Usman said. "You know the areas where they're strong. So it makes it a little different. At the end of the day with me, when it comes to me, I see no face. I didn't pick him out of a line up and say 'this is the guy I'm going to take out.'
"In a sense they're all different but when it gets closer to the fight, they're all the same," Usman said. "These guys all sit there and look at what I've earned and what I've worked for and say 'I want that. I want to eat his food. I want to take his plate.' So at the end of the day, I have to be that same savage to go in there and defend each and every time.
"It's a little different in a sense but at the same time, I see no face. When we get in there, they're all the same."
However, Usman says that once that final bell rings he will hold no animosity towards his Brazilian opponent — and he hopes for the same reaction from Burns.
"That depends on him and how they take it," Usman said. "I see no face when I step in there so it depends on how they take it. Jorge Masvidal stepped up, he took his loss and he took it like a man and he shook hands and we went about our business. That doesn't mean it can't happen again but it all depends on how they take it.
"If [Burns] takes it well, it is what it is, but if he doesn't, it also it is what it is. I'm walking out there with my hand raised."

Comments
comments