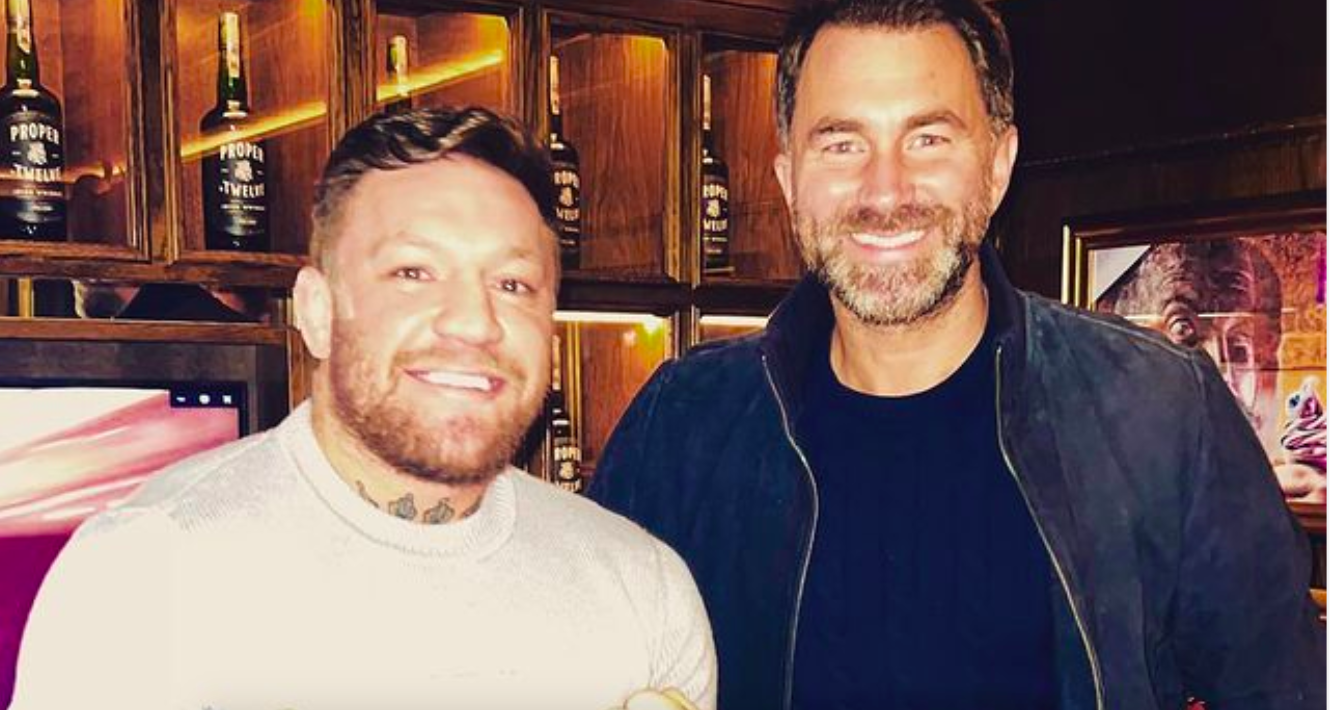 Throughout his career as one of boxing's foremost promoters, Eddie Hearn has met a lot of characters. But he says none of them are quite like Conor McGregor.
Hearn visited Dublin recently for a meeting with McGregor in his Black Forge Inn pub where the two discussed a range of issues primarily concerning Katie Taylor's upcoming May 20 title defence in the Irish capital, as well sponsorship opportunities and issues related to the breakdown of a potential booking at Croke Park — and speaking to Ariel Helwani on Monday's edition of The MMA Hour via MMA Fighting, Hearn detailed what he said was a very memorable afternoon.
"I know everyone's got their opinion. I always take people how I see them, right? So you hear this, you hear that, you hear this, you hear that. I had lunch with him — I don't know how long it was, an hour-and-a-half, two hours — just the funniest time," Hearn said. "I love great energy, and this guy is just a pure character. It was like being at a press conference.
"He comes in, and just the energy and the enthusiasm — that's one thing that I took out of is, you know that in boxing, and this obviously sits alongside MMA as well, you fall in love with the sport. He is so passionate about boxing, about mixed martial arts — he wouldn't sit down. He's ordered a steak, he's standing up, he's showing me how he'd fight this guy and how fight that guy, and he's telling me about, I think, the Nate Diaz fight, when he's on his back and he's got a bad knee [editor's note: this may be in reference to the Chad Mendes fight]. It's like a million miles an hour. But he's like, 'We should do this, we should do that. Let's do this. Let's make it happen.'
"I love him. I think he's such a character. In life, you want to be around people where you go, 'I'll never forget you.' I'll never forget that moment with Conor McGregor."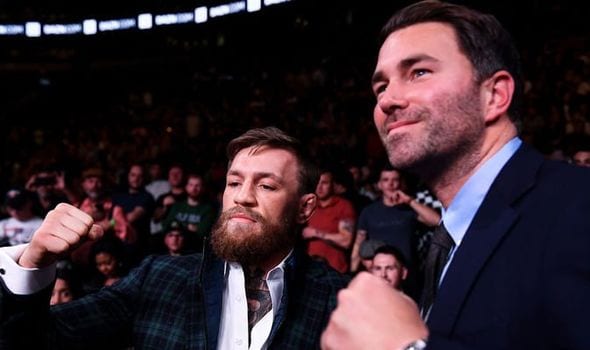 Taylor, who is promoted by Hearn's Matchroom organisation, will face Chantelle Cameron in a fascinating fight in Dublin's 3Arena in May after the much-anticipated rematch with Amanda Serrano fell through, and Hearn explained that McGregor's support for both Taylor herself and boxing is clear to see.
"I know that there is an element to everything that everybody does about publicity and exposure, but he has a genuine passion for Katie," he explained. "He loves Katie Taylor. He thinks she's amazing. She's a hero in that country, and he wanted to help make it happen for her, for Ireland as well. And I'm sure he gets [bad press], because everybody does when they reach those kinds of heights, but I had a great time. I really did.
"I was lucky that I was catching a flight back, because we had some of that Irish stout, and next thing you've got the Apple Proper Twelves, and next thing, who knows what's going to happen with Conor McGregor? But we've been speaking to him and Audie about supporting the event with those brands, and they look like they're going to get behind it and push it, and then hopefully we can move that to Croke Park after."
Comments
comments