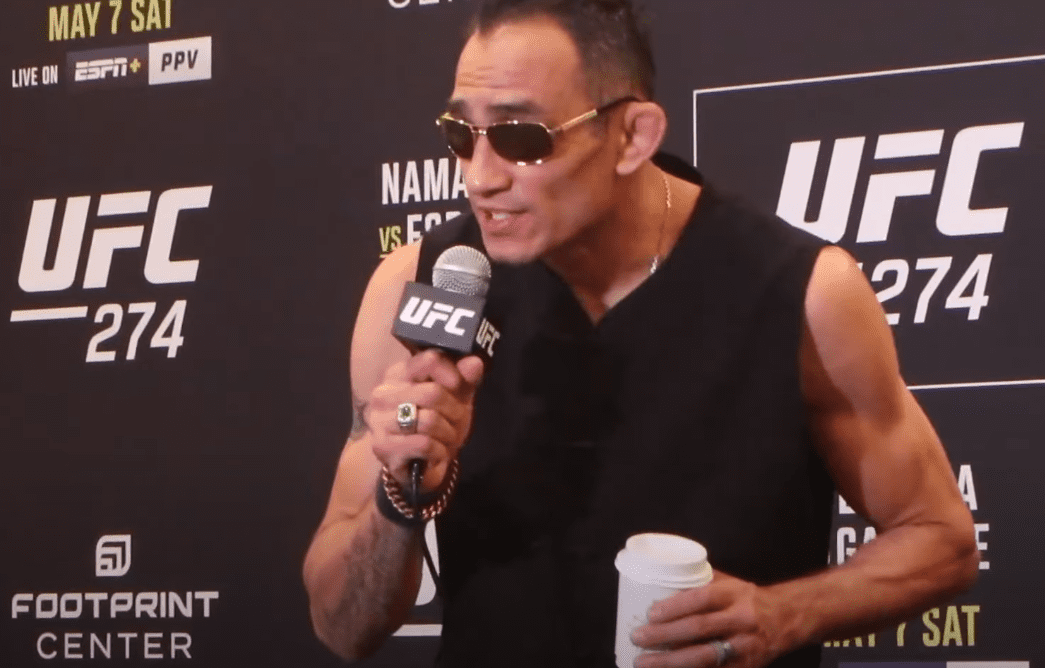 Tony Ferguson has never been one to keep his thoughts to himself, and said exactly what was on his mind when talking to the media ahead of his UFC 274 showdown with Michael Chandler.
Ferguson, who comes into the fight on the back of three straight losses, was asked his opinion on Chandler — who had joked that he was Dana White's favourite fighter — getting a title shot in just his second fight for the organisation, and Ferguson took umbrage with the very concept of so-called 'Dana White privilege'.
"I don't think that s*** is very funny," Ferguson said to the media, including TheMacLife "You do maybe. I don't think it's very funny. Everybody is looking at it, they're smiling and laughing at it but nobody's saying s***.
"I'm the one up here with Dana Brown privilege or whatever the f*** you want to call it. I don't think it's very funny anymore. I don't think you should think that's very funny. So I'm taking this weekend very f****** seriously. So I'll kick this Dana White boy's ass.
"Nothing personal against Chandler," Ferguson added. "But I'm going to be real, I'm tired of the retaliation tactics from the company."
When asked to elaborate on this sentiment, Ferguson did so: "
"I think we're underpaid, personally, I'm going to be real. I'm not going to say too much. Dana said something the other day, it's on my phone, I think it's from MMA Fighting actually reposted it talking about how boxers being overpaid. I asked Dana to box, he said f*** no. I'm like why?
"I want to go play baseball, I want to go do other pro sports. I'm an athlete. I grew up doing different pro sports at a very high level. I won a state championship in football, we were 27-1. I come from Grand Valley State University as a wrestler, I want to go do wrestling. I've got uncle Brock that's right there watching me.
"I want to go do all these couple things but then I have this guy right here acting like a f****** drug dealer, telling me I can't go do this s***. I want to go make more money for my family."
Comments
comments