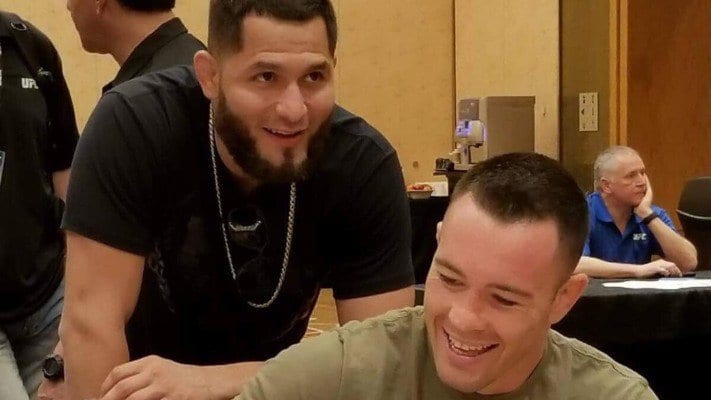 Jorge Masvidal doesn't see eye to eye with Kamaru Usman, but he respects the fact that he has given him a second shot at his world title.
Masvidal was soundly beaten in last year's first meeting between the two, losing a lopsided unanimous decision on 'Fight Island' in a fight he accepted on just six days notice after original main event Gilbert Burns was forced to withdraw due to a Covid-19 diagnosis. The two will meet again this weekend, with Dana White saying that Colby Covington is in line for the winner — but Masvidal says that, if he wins he will be pushing for a trilogy fight with the reigning UFC welterweight champion.
"Definitely," Masvidal told the media, including TheMacLife, in Jacksonville, Florida ahead of the first UFC event to take place in front of a full capacity of fans in more than a year when asked if he will offer a rematch to Usman.
"He game me a chance. Whether we see eye-to-eye on things or not, he game me another chance to compete, so I'll definitely give him another chance to compete again."
As far as Masvidal is concerned, this weekend's contest will be wholly different to the one which came before it.
"Not having to cut 20 pounds in six days means a lot to me," Masvidal said. "Last time, all the energy I wasted cutting weight is going to be spent in putting a finish on him."
But Dana White, traditionally opposed to fighters acting as their own matchmakers, may have different ideas when it comes to the identity of the next title challenger.
"I don't know. We have to see how the fight plays out," White said to MMA Junkie. "A lot of things factor in on if a fight gets made — injuries and personal things. So I don't know. We'll see how Saturday plays out."
Comments
comments