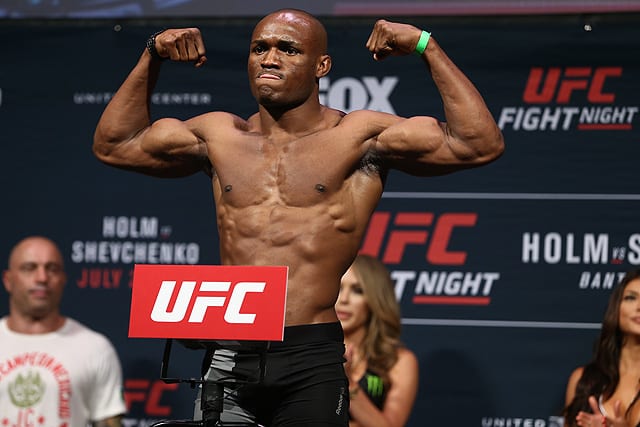 Dana White has stated that he sees Colby Covington as the number one contender for Kamaru Usman's welterweight title, but the champion might have other plans.
Usman's recent win against Jorge Masvidal, the champ says, shows that he has "lapped" the rest of the 170-pound division after already owning wins against the division's top-ranked fighters in Masvidal (x2), Covington and Leon Edwards. The last name on that list, Edwards, has pieced together a nine fight undefeated streak since he was defeated by Usman several years ago — and 'The Nigerian Nightmare' says that feels the next challenger could emerge from next month's five-round welterweight showdown between he and Diaz.
"Yes I do want to see how those play out because there's a lot of implications," Usman said to ESPN.
"I've been through the whole division and now I'm coming back around. So everyone sitting around and going 'I'm next, I'm next, I'm next!' I don't really believe in that. Show me something. Show me some activity. Leon Edwards, granted he was kind of stuck in that funky spot where he didn't fight for two years and that set him back but look at the guy. Since he fought me he's put together an impressive resume. Putting together an eight-fight win streak or something like that.
"You've got Michael Chiesa putting together a four-fight win streak, you've got Vicente Luque coming back and putting on a four-fight win streak and finishing these guys, so why does he deserve this shot? Just because he went five rounds and then I broke his jaw and finished the fight? That doesn't make sense to me."
"If Leon looks spectacular, it makes sense. If Nate looks spectacular, that could make sense as well. With the whole Marvin and Israel situation, I don't necessarily want to think about that. I'm 100 percent behind Izzy and I think he can pull it out. I love Marvin as well but I think Izzy can pull that one out. He's done it before and I think he can and I think he will. But if there was a case to where I would actually go up and challenge for that belt it would be without Izzy being in the picture. So if Izzy's not champ, then it's something I could take a look at."
Of course, the one name not mentioned is that of Covington — the man whom he defeated by late TKO at the tail-end of 2019. And you can expect to hear the UFC's firebrand's thoughts on this imminently, one suspects.
Comments
comments