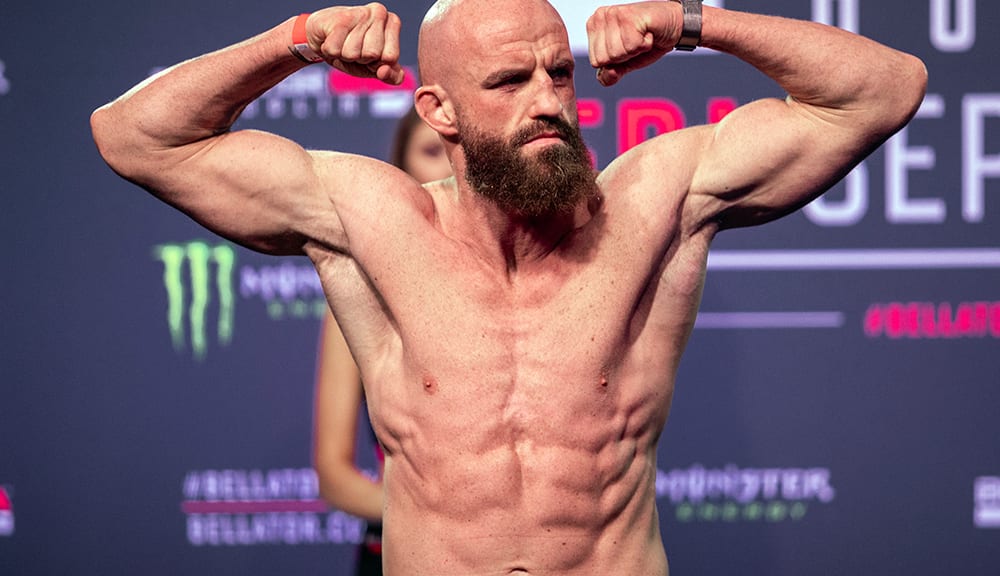 After the longest gap of his professional career, during which a global pandemic took hold and he suffered a nasty hand injury, Peter Queally is ready to prove himself at the summit of the Bellator rankings once more.
SBG Ireland's Queally was last seen in the cage early last year when he scored a stunning knockout of highly-rated Englishman Ryan Scope. That fight, which took place in front of Queally's compatriots in Dublin, demanded a high profile fight for the experienced Irishman — and that is exactly what he faces Friday against Bellator veteran Patricky Pitbull, brother of double-champ Patricio.
"It's been a while since I fought, like 18 months, this is the longest break I've ever had in my career," he told The Mirror. "I'm very excited, I'm kind of craving a bit of contact to be honest.
"It can be hard (to stay focused). I remember the first camp – when Covid first started it wasn't hard to train. But then you saw what was coming, that this was very uncertain, and you don't know when your fight's going to be.
View this post on Instagram
"The level of intensity we train at – it's very difficult to keep this up if you don't have something to prepare for – so that was hard. But then I had the fight booked with Patricky, and then you've a goal again and everything's okay, but then I broke my hand.
"And as bad as that was, as bad as that experience was, it kind of focused me as well with all of the rehab I had to do. I was kept busy in ways and even though it was a bad year for me, I had a goal and focus for most of it. And then coming into late last year I knew this fight was happening sometime around now – so I was ready for it."
Queally's two most recent wins, against Scope and David Khachatryan, were both knockouts and it is this type of firefight which the Waterford man expects in the cage on Friday — but he says that he expects Pitbull to launch a grappling-heavy offence when he sees things aren't going his way on the feet.
"He can try to knock me out, 20 men have tried before and none have been successful and he's been knocked out before – I haven't," said Queally.
"I hope he tries, and he will try. Maybe I don't like Patricky that much as a person, but I do like him as a fighter if I'm being honest about it. He comes to take you out, I respect it, it's exactly how I like to fight myself as well and I want guys coming to get me. I think that brings out the best in me, so we'll see now."
Comments
comments