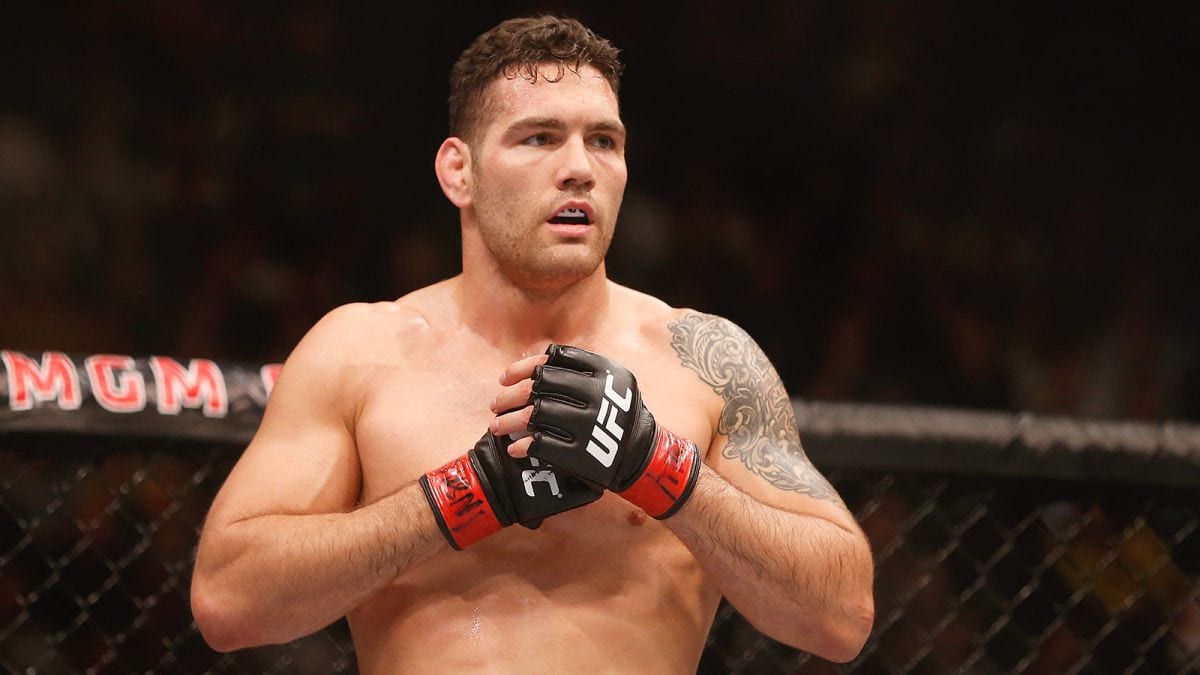 Former UFC middleweight champion Chris Weidman is resolved to get back into the cage as he continues to show off his impressive recovery from the broken leg he suffered in a recent bout with Uriah Hall. 
Weidman suffered a nasty break to both his tibia and fibula when he landed an early low-kick in his April fight with Hall. The injury is expected to keep him out of action for anywhere between 6-12 months — but the New Yorker has given his fans some cause for hope after a series of videos showing various stages of his recovery.
"I woke up on Thursday and I'm like I feel good today, I'm going to go to the gym," Weidman said to MMA Fighting. "I figured I'm going to go to the gym, get a workout in, maybe hit the bag for like a minute or two, lay down, put my leg up but just be happy being in the gym, see the guys and smell the dirty mats again, which I love.
"So I got there and there's a couple guys that I train with that were training and doing some kickboxing and I was like that bag is just not as fun so I said 'get over here.' We started doing some drills, we started doing some play sparring. Got a full workout in, like a circuit with push-ups and ab work. Probably did about an hour and I was up on my feet the whole time, which is crazy. I think I'm getting better and better."
Weidman had previously showed off footage of him walking on an anti-gravity treadmill just weeks after suffering the gruesome break, and the latest footage he posted to Instagram displays him standing as he takes on some light pad work.
View this post on Instagram
He also provided a more specific update as to his recovery, saying: "My fibula bone is still completely broken. It's displaced. The goal is it starts getting closer and closer and mends together. Then my tibia bone is completely fractured so I'm relying on that rod that is going through the middle of it to deal with the weight bearing.
"There's a butterfly fracture that fragmented off that causes like inflammation. It's annoying. He might, hopefully he doesn't, but he might have to do a quick surgery to get that out if it doesn't heal with the tibia bone.
"It really just comes down to me and what I can tolerate," he added. "I'm really just trying to push it. I'm trying to go back to normal quick. I'm starting up strength and conditioning workouts, like legit ones I was doing pre-fight and then I'm going to start doing some MMA stuff so I'm right back in there.
"There's still a lot of milestones I've got to get through and I'm sure there's going to be some setbacks, but I'm prepared for it," Weidman said. "Nothing's going to break me. I'll just keep moving forward. If at the end of the day, I'm in the gym and as I'm as good as the doctors says I'm going to get and I can't do anything that I used to be able to do, I'm not going to fight.
"If I think I can be the best in the world, and I can do what I need to do with this leg, then I'm going to fight."
Comments
comments