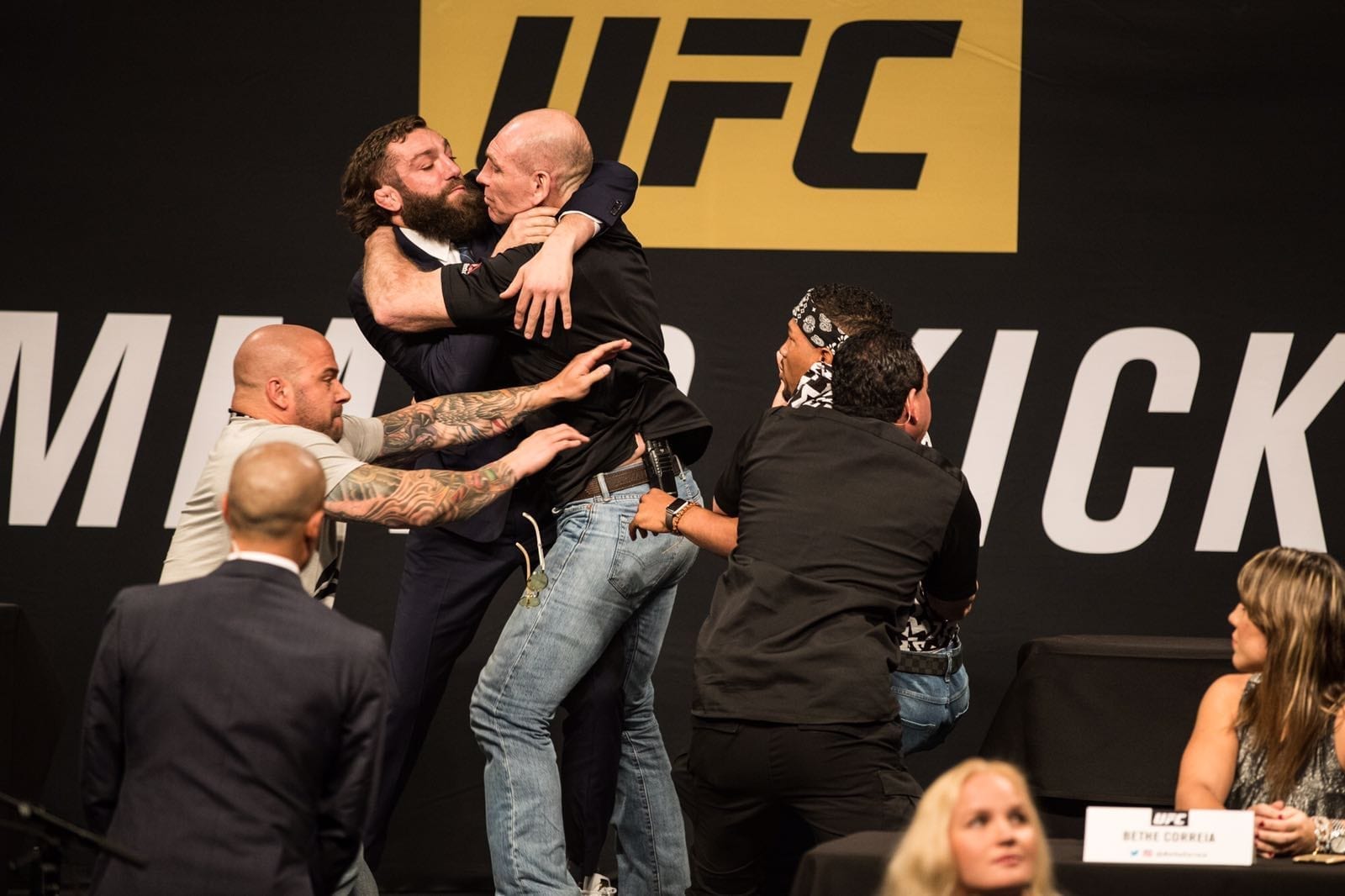 Not everyone has time to sit around and watch a press conference, particularly if it features over ten fighters and looks to go on for a while.
And with so many fights being announced, as well as a plethora of verbal back and forths taking place, you'd be forgiven for losing track of all the story lines that came out of yesterday afternoon. So, that's where we come in. Here we'll be taking a look at the biggest happenings of yesterday's goings on, just in case you missed it.
Jon Jones and Daniel Cormier, who headline UFC 214, still hate each other.
It may have dragged on a long time, and it may be frustrating that the two haven't fought more than once, but the rivalry between Jon Jones and Daniel Cormier is still as captivating as ever.
The two came face to face once again at the press conference yesterday, and the curtain hadn't even risen to start the show before they had an altercation. After Cormier reportedly mocked Jones' haircut, Jones responded that Cormier would always have to explain to his children that he never beat the real champ — a comment that infuriated Cormier, who threw a bottle of water at Jones' face.
@dc_mma said this Real Nigga shit 😂😂 pic.twitter.com/sHnp4DApaN

— Kevin Lee (@MoTownPhenom) May 12, 2017
Following that, it was no surprise the two had harsh words for each other on stage, with at one point Cormier calling out Jones' extra-curricular activities.
"I'm sitting here, and like, I see him. I see him, he's over there," Cormier said. "But is he really going to be in Anaheim? Is he really going to the fight? Is this guy gonna mess this up again by doing steroids or snorting cocaine or sandblasting prostitutes?
To which Jones responded with one of the more unusual insults:
"I beat you after a weekend of cocaine. I had two great weekends. Back to back weekends. Cocaine one, your ass the next. It was great. That was a month for the ages."
UFC 214 can't come fast enough.
Kevin Lee and Mike Chiesa get in a fist fight on stage
There are few rules when it comes to trash talking. Insulting another man's mother appears to be one of them.
As Michael Chiesa and Kevin Lee started jawing back and forth with various insults, Lee mentioned that he hoped Chiesa would show up before saying 'I know his mamma got tickets'. The comment infuriated Chiesa, who bellowed at Lee to never mention his mother again, before running across the stage and launching himself at Lee, who in return threw a hard right hand while security wrestled the two apart.
Check it out:
Amanda Nunes and Valentina Shevchenko develop feud with physical staredown.
Not to be left out, it appears as if Amanda Nunes and Valentina Shevchenko have started to find each other an irritant. The two were quick to get insulting to the other, with the champion Nunes appearing particularly annoyed by Shevchenko's contest going into a rematch, particularly with Shevchenko having lost the first fight.
"I beat you already, I beat you already," Nunes said. "I don't talk anything, I beat you already. Everybody see. You don't have enough to talk about it. I beat you. I'm a champion for a reason, I will show. What are you talking about? Shut up."
Then, when the two came to staredown, the champion sent a little message, using her fist to push Shevchenko's face away.
Amanda Nunes and Valentina Shevchenko nearly got into it as well #UFC pic.twitter.com/rdQL3g1qrJ

— Conor McGregor News (@ConormcGregor5) May 12, 2017
With Cody Garbrandt potentially injured, T.J. Dillashaw challenges Demetrious Johnson
Cody Garbrandt and T.J. Dillashaw was a fight most fans were excited to see. With Garbrandt's epic performance over former champion Dominick Cruz, it appeared to make his first defense against new rival Dillashaw one to watch this summer.
Yesterday though, reports broke that Garbrandt has had to go to Germany to receive stem cell treatment on a back injury, and looks as if he could find himself having to withdraw from the title fight, which is scheduled for UFC 213. But, with every cloud, a silver lining and UFC president Dana White revealed that should Garbrandt indeed withdraw, the UFC had heard a pretty decent alternative.
Here's Dana White on TJ Dillashaw offering to fight Demetrious Johnson if Cody Garbrandt is unable to fight at UFC 213 pic.twitter.com/8mNrnCFtz2

— Aaron Bronsteter (@aaronbronsteter) May 13, 2017
"TJ Dillashaw called me this morning," White said. "And said 'if Cody can't fight, what I would love to do is stop Demetrious Johnson from breaking the record'. So that's fun. Right? And there's something Anderson Silva might appreciate."
I think it's something we can all appreciate.
Cris Cyborg rumoured to face Cat Zingano at UFC 214
If all that wasn't enough, it appears as if the UFC are angling to have Cris Cyborg return as soon as they can, particularly in light of the Brazilian's public calls for a fight at UFC 214 in Anaheim, her current place of residence. Moments before the press conference started, Brazilian outlet Globo reported that the UFC were targeting a fight between Cyborg and former bantamweight title contender Cat Zingano.
If the fight indeed does get made official, there are a couple of questions to be asked. Firstly, where is UFC women's featherweight champion Germaine de Randamie, and second, is it for an interim belt or is it just so Cyborg can make an appearance?
And if you're still not caught up…
And if after all that, you still find yourself wanting to see it all, here's the full video for you:
—
Comments
comments