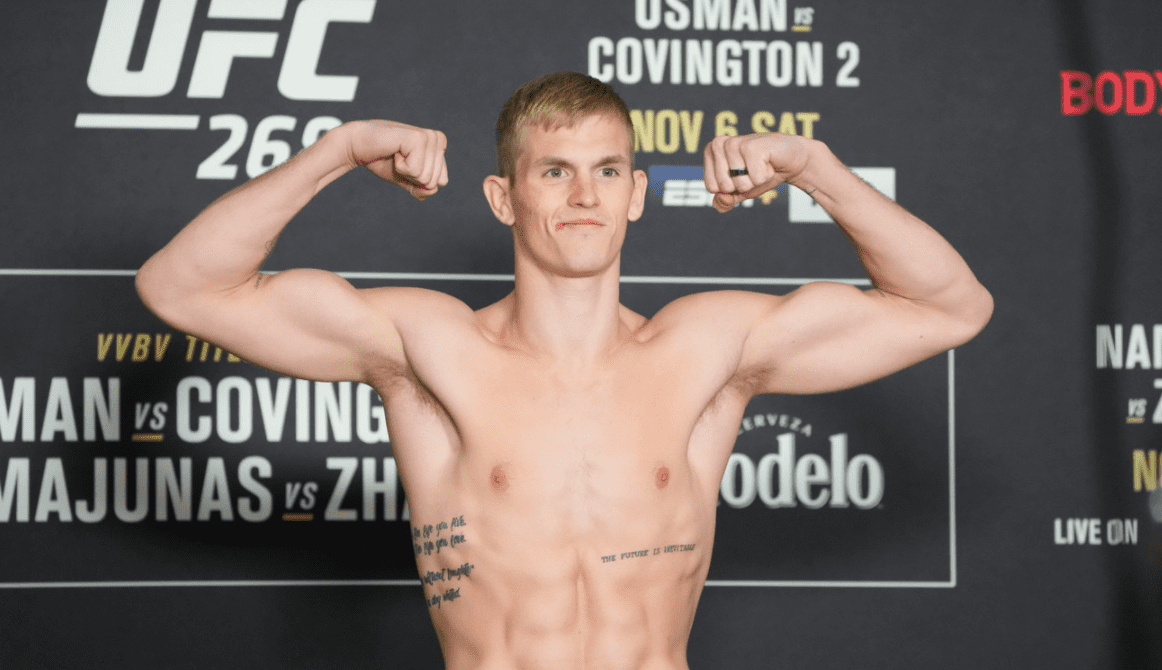 There's something about Cage Warriors champions when they make the move to the UFC.
It is a well-worn path. Two former Cage Warriors titleholders, Conor McGregor and Michael Bisping, have repeated their achievements on the sport's biggest stage. Other exports like Arnold Allen and Paddy Pimblett seem like they could be some of the next names to make an imprint on the title picture in the UFC — but another, former welterweight champion Ian Garry — says that he is the very future of the sport of mixed martial arts.
But greatness will come in time. Now, he says, it is time to hone his craft.
"There's no rush," Garry said to Ariel Helwani on the MMA Hour via MMA Fighting. "My main concern, my main goal, is to grow. To become a better fighter, to become a better martial artist, to become a better athlete in every single way I can. Diet, nutrition, strength and conditioning, and technical ability.
"So for me, it's working with the team that I've surrounded myself, to get better and grow and grow and grow. By the end of this year, I'll be 4-0 in the UFC, I will have fought three times in 2022, and I'll be 11-0, and I'll prove to everybody why I said I'm 'The Future'."
Last year, Garry uprooted his training base in Dublin (under somewhat controversial circumstances) and moved to train at one of the sport's hotbeds for talent, Sanford MMA in Florida. There he is spending time alongside current UFC welterweight champion Kamaru Usman, and he says this has been an invaluable learning experience.
"I was kind of shocked because of his size," Garry explained. "He's not anywhere near as big as he looks on TV, because he looks jacked when he's on the camera. But I was speaking to the guys, and they were saying he's not the best striker, he's not the best wrestler, he's not the best at jiu-jitsu, but he's the best at mixing it up.
"And they were saying, 'He'll get beat up in wrestling, he'll get beat up in grappling, he'll get beat up in kickboxing, but when it comes to MMA, he's the best.' And we've seen that in his fights. I think he's on a 15-fight win streak in the UFC, which is insane.
"It was obviously a pleasure to share the cage. He was explaining a couple things I can do better. We were doing kickboxing drills, so we kind of swap and change between everyone. [Coach] Henry [Hooft] likes us to feel kicks on the arms, kicks on the legs, block kicks to the head, just little things, redirect kicks and move energy and come back and refire. I think we've done two rounds together and it was really cool."
Garry takes on his second UFC assignment this week, quite conveniently in Florida, against Darian Weeks at UFC 273 and Garry says that this will be another step on the path he has forged for himself.
"I hadn't heard of him," he said of his opponent. "The name got sent across, I said yes, that's the way it is. I had a quick glance at his fight against Barbarena — he's alright. He's nothing special, but he's in the UFC and every fighter that's in the UFC should be respected for whatever their skill set may be, because they can all potentially win. He's gonna end up fighting me, which is his ticket to stardom, is what he thinks but, as I've done many times, I'm gonna go in there and win. I'm gonna find a way to win like I always do."
Comments
comments