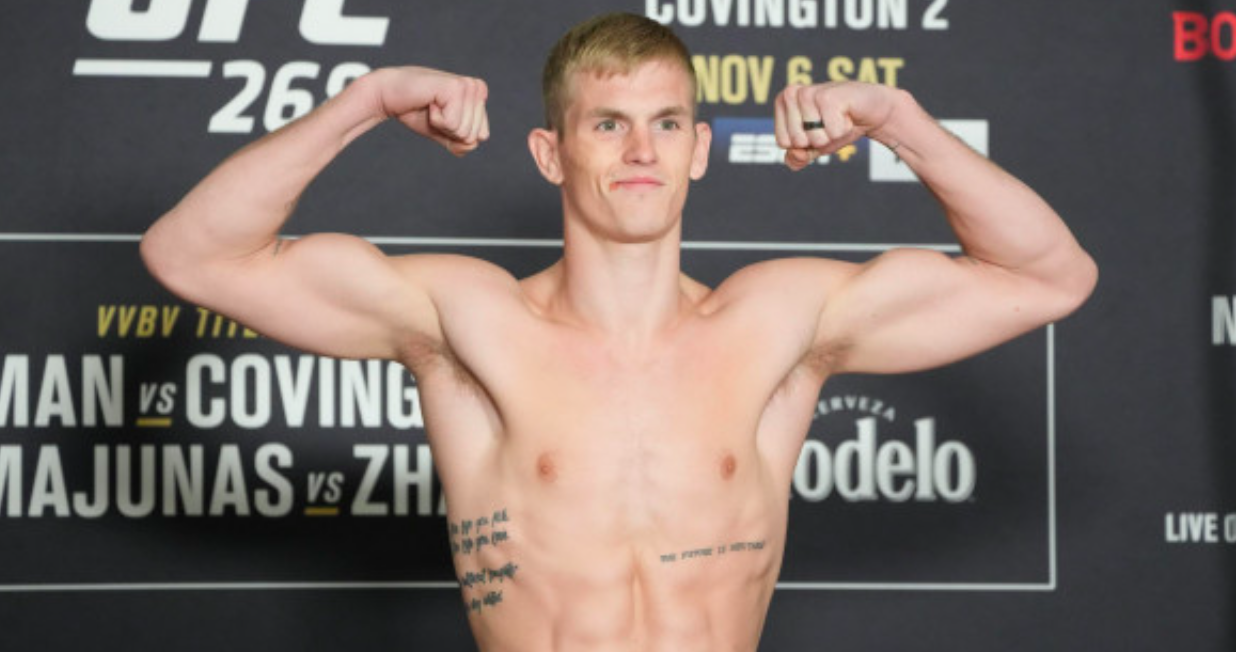 Ian Garry has vowed to one day become the UFC welterweight champion and now knows exactly the type of shot it takes to win 170-pound gold.
Garry, 24, is a 3-0 in the UFC and a perfect 10-0 in his career and is one of the welterweight division's most promising fighters. The Dubliner moved to the US to train at the Kill Kliff FC training facility (formerly Sanford MMA) where he has tested himself against a wide range of fighters, including top-ranked fighters in his division like Gilbert Burns.
But as he revealed in a social media video alongside his wife, he was left in a spot of bother after receiving a head kick from the UFC's 170-pound champion Leon Edwards which he says was the very same shot used by Edwards to claim the title against Kamaru Usman back in August.
Ian Garry telling the story of how UFC welterweight champion Leon Edwards sent him to hospital this week.😳😬#UFC #MMA pic.twitter.com/iiAfyPMDSq

— The MMA Media (@The_MMA_Media) November 6, 2022
"What happened?" his partner, Layla, says in the video as she asks Garry to explain the situation he is experiencing to viewers after a trip to see a dentist. "She [the dentist] said it could be caused by trauma?"
Garry explains that he visited a hospital on the morning that the video was shot after experiencing "excruciating pain" which was shooting into his face via his teeth.
"Yeah, she asked me what I did for a living," Garry replied. "She said do you do any contact sports? No.
"Not only did you lie to the dentist, but you're also avoiding telling the truth now" Layla responds.
"There's no avoiding telling the truth," adds Garry. "It just doesn't need to be told sometimes. I may — anyone watch the Leon Edwards Usman fight? Anyone know how that went? One of the best head kicks in the UFC. Yeah, I might have felt what that kick felt like, on Wednesday morning. So yeah, Leon, I'm blaming you for my tooth f***ing pain."
Garry does not currently have a fight booked but he is expected to compete again sometime inside the first quarter of 2023.
Comments
comments