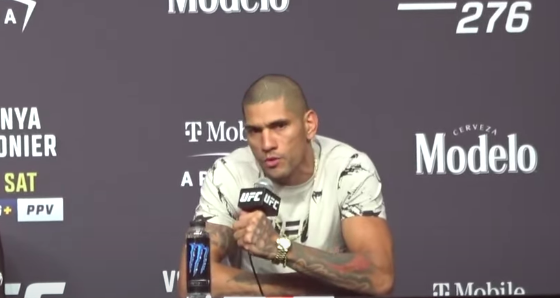 Dustin Jacoby knows full well what it feels like to be punched in the face by Alex Pereira.
The American fighter increased his unbeaten streak to nine at least weekend's UFC event in Long Island when knocked out Da Un Jung in the first round of their light heavyweight contest, earning a performance bonus for his efforts. But while the 34-year-old has designs on chasing gold in the UFC's 205-pound fold, the summit of the title picture at middleweight remains interesting to him.
Jacoby, a former GLORY kickboxer, has previously faced Alex Pereira in that sport and, much like Israel Adesanya, was on the receiving end of the only knockout loss of his career. And like the Kiwi champion, it was delivered by his thunderbolt left hook.
And as he explained to Ariel Helwani on The MMA Hour, as reproduced on MMA Fighting, the Brazilian slugger is a challenge to anyone.
"It's an interesting matchup. I fought Pereira. It's the only time I've ever been knocked out," Jacoby said of the rumoured title fight between Adesanya and Pereira.
The guy knocks everybody out with the left hook. I can say that loud and proud, because there's several guys that have fallen victim to him. And he's just a dangerous man. Izzy, I know [Pereira] holds the 2-0 record, but again, that's kickboxing, and one of those fights I think was a really good fight that could've gone either way. And Izzy's just different inside the MMA octagon. He's got good defence. He fights really smart. He's got high IQ. I'm a big fan of both guys.
"But I would never bet against Pereira, man. That guy can literally touch anybody and knock them out at the drop of a dime, so Izzy's got to be careful."
Jacoby took at least one big shot in his win last weekend but brushed it off with ease. In fact, he says that he has rarely been in any type of real trouble from a punch — that was, until he fought the Brazilian.
"Excuse me, Pereira just hits different, man. He's got that power."
Comments
comments