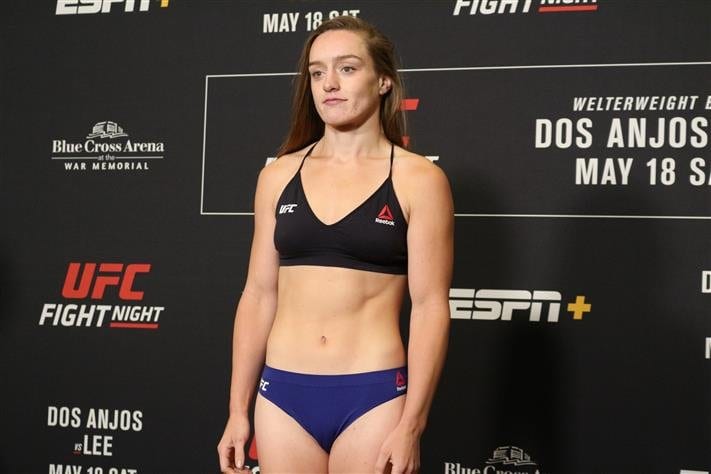 Aspen Ladd has responded to Miesha Tate's accusation that Ladd 'cheated' while attempting to make weight for her ultimately cancelled fight with Macy Chiasson in Las Vegas this past weekend.
During Friday's weigh-in, a frail-looking Ladd repeatedly struggled on the scales in her weigh-in attempts, both clothed and unclothed, with several fans and media members expressing concern as she appeared to shake on the scales. The fight was soon cancelled with Ladd blaming her misfortunes on her period and that the so-called 'privacy box' used by UFC officials to obscure her from weigh-in attendees was to ensure, as she put it, she didn't "bleed in front of the media".
However, former UFC champion Tate wasn't buying it and in a series of tweets accused Ladd of cheating and that she was attempting to game the system by holding on to the towel, or any other number of dark arts sometimes used to achieve a desired result on the scales.
It's one thing to miss weight, it's another thing to try and cheat the scale and use every excuse in the book to not weigh in properly. Everyone saw you cheat and still came in a lb over. I bet you were every bit of 139. https://t.co/VyOWcfTMCv

— Miesha Tate (@MieshaTate) October 3, 2021
Because she wanted to cheat the real scale and she knew if she checked before hand that she couldn't explain why the lbs suddenly disappeared when she got behind a curtain she could grab onto https://t.co/p0R33jTtyu

— Miesha Tate (@MieshaTate) October 3, 2021
U R a champ, a pioneer in mma,I hav a great deal of respect for u.Bottom line is I didn't make it. there is documented history struggles. 1lb or 10lb the bottom line is I didn't get it done. taking control to rectify the situation. I will not engage w/ neg this has brought., 🙏

— Aspen Ladd (@TheAspenLadd) October 3, 2021
But firing back at Tate, Ladd wasn't appreciate of the allegations.
"U R a champ, a pioneer in mma," she wrote. "I hav a great deal of respect for u. Bottom line is I didn't make it. there is documented history struggles. 1lb or 10lb the bottom line is I didn't get it done. taking control to rectify the situation. I will not engage w/ neg this has brought."
Comments
comments