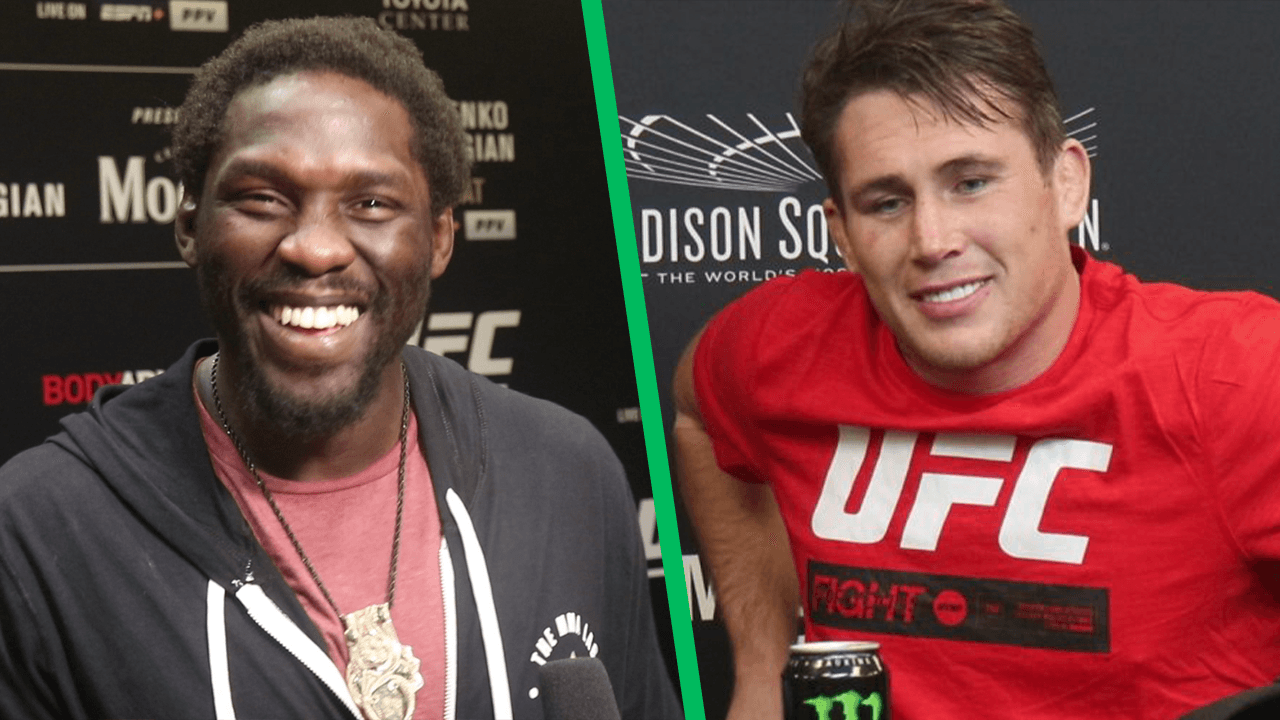 Jared Cannonier might seem to find Darren Till amusing for the most part, but he has to admit that when a potential fight between them was scuppered, he was left frustrated.
The two were linked to a contest for last Saturday's UFC 248, only for a pectoral injury Cannonier suffered to rule him out and off the card.
"I guess Darren was thinking about taking the fight or doing contract issues or doing something," Cannonier said, speaking to Submission Radio. "Whatever it was, we were waiting for them to say yes. It was like a number of weeks, I think 2/3 weeks, we were waiting for him to say yes. You know, nothing. And then two days after I tear my pec, he comes on Instagram and Twitter and he's ready to take the fight and let's do it.
"I don't know. Maybe he had his agents out there relaying information. I don't know. I'm not going to speculate or anything like that, but it was kind of funny the way it happened. Two days after I tear my pec, he accepts the fight. He waited a little too long."
Despite the fact the two were unable to tangle in Las Vegas, Till has continued to enjoy himself on social media in regards to his middleweight colleagues, regularly commenting on Cannonier, Robert Whittaker and Yoel Romero via Instagram.
When it looked like the Liverpudlian and Cannonier might fight, many of Till's remarks were about the two's shared moniker of 'gorilla' — something Cannonier says is completely off the table should they be scheduled.
"I think I was the Killa Gorilla before he was the gorilla, so he can kiss my ass about changing names and stuff like that," Cannonier said. "If he needs that for motivation, he can have that, he can do that himself. Play out the scenario however he needs to. But at the end of the day, the fights a fight, names are just words. What we're fighting for is bigger than the name, I feel. We're trying to get that title, trying to cement whatever name I choose for you guys to call me — cement that there in legacy or in history or however you want to say it."
That being said, Cannonier takes most of the Till weirdness in stride.
"Darren is a funny guy on the social media," Cannonier said. "I don't really do the social media too much. You won't see me posting … Darren, he'll be on the social posting and saying, 'Jared?'. I don't know what that means. What's the question? Do I want to fight? I already said yes. Now you have to wait.
"Darren likes to troll people is what they do. I guess that's what the kids are doing nowadays. They're trolling everybody. Just doing something completely ignorant and stupid, saying whatever comes to mind, which is usually something stupid or ignorant, to get a rise out of people. A reaction out of people. But I'm a grown-ass man and I'm gonna sit here and laugh at the dumb shit and acknowledge the real shit. You won't see me acknowledge any of that dumb shit."
Comments
comments