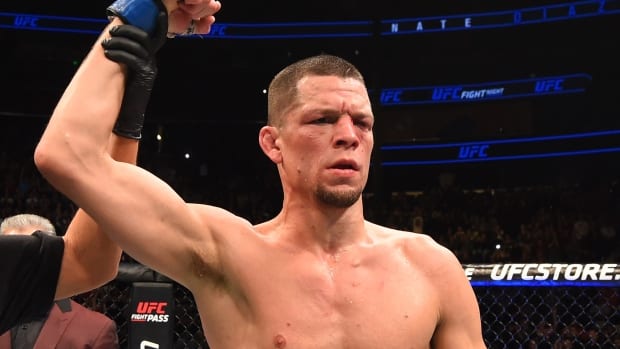 Nate Diaz has been a member of the UFC roster for 15 years but he says that his time with the company has come to an end.
Diaz, who hasn't fought in more than a year, has one fight remaining on his UFC deal but has grown dissatisfied with the company's apparent reluctance to allow him to fight out his deal and move on from the organisation, and has been openly agitating for the UFC to offer him a fight or cancel his contract on social media in recent weeks.
Elaborating on the situation to Ariel Helwani on a special edition of The MMA Hour via MMA Fighting on Tuesday, Diaz said that he feels the UFC is holding him 'hostage' by not allowing him to move to pastures new.
"They haven't offered me anybody," Diaz explained.
"I've been asking for fights since whenever, I asked for a lot of fights. I asked for [Vicente] Luque, I asked for Tony Ferguson, I asked for like four or five people.
"It was never good on their side. They finally offered me Khamzat, I gave a little 'what the f*ck?', but then I thought why not? Let's get it done with."
But Diaz added that as soon as he finally agreed to the Chimaev fight, the UFC suddenly withdrew their interest.
"I asked for the Khamzat fight," he said. "Then, all sorts of excuses started happening. I wanted January, I wanted March, I wanted all these things… I'm trying to get this show on the road, but they're keeping me in my contract and they're holding me hostage. I want out, that's my main objective is."
It remains to be seen if (or when) the UFC will offer Diaz the final fight he has been craving, or if they will even opt to just void his contract to allow him to move on to opportunities elsewhere — but it does seem almost certain that his exit from the UFC is just a matter of time.
"I don't want no more money," Diaz added. "I want to go do different stuff. I went in there and talked to them, and it's with all due respect. I might just re-sign afterward, but I need out."
Comments
comments