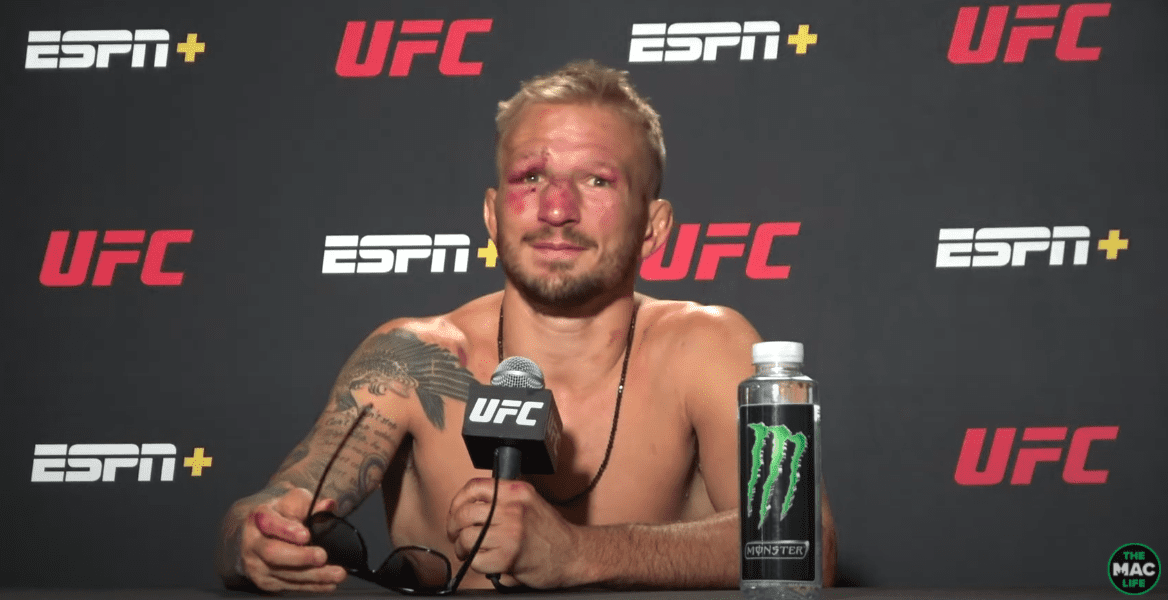 After sitting on the sidelines for two and a half years for entirely self-imposed reasons, T.J. Dillashaw returned to the cage last weekend where he earned a razor-thin split decision win against Cory Sandhagen.
For Dillashaw, the fight can't be viewed as anything but an unqualified success. The former bantamweight champion faced the media during fight week where he was met with a barrage of questions about his ban for admitting to taking EPO, after being pilloried by several fighters (Artem Lobov notably included) for taking a performance enhancer which presents clear ethical and sporting violations of the unspoken agreement made between fighters to operate on a level playing field.
But with that gauntlet passed for now at least, and another win at under his belt, Dillashaw can move forward and focus on winning UFC gold regardless of what his detractors say.
"I want my belt back," Dillashaw told the media, including The Mac Life, last Saturday night in Las Vegas.
"It's my belt. I want it back. I wasn't impressed with Sterling and Yan's last fight. I think Yan's going to get the win [in their rematch]. Aljamain did not look very good, and that's who I see fighting next."
He certainly didn't have it all his own way against Sandhagen, who also could have eked out a decision win in many people's view.
"I'm happy with the performance. I got the win, but I can do a lot better than that," Dillashaw stated.
And one other aspect of the fight pleased Dillashaw was the fact that it went five round, which he says was particularly satisfying the heat he has faced over the last two plus years.
"I wanted to make sure everyone saw that cardio," he smirked.
–
Comments
comments