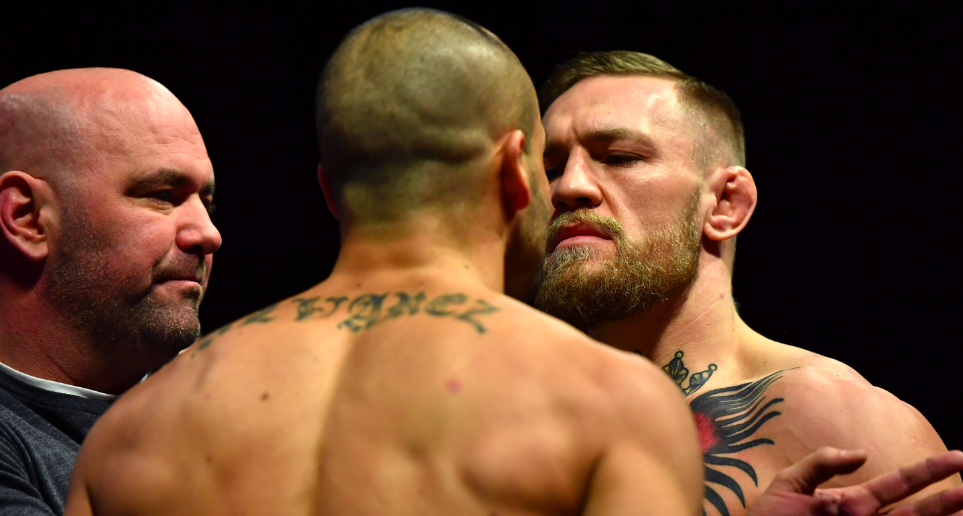 Eddie Alvarez and Conor McGregor have history but their mutual respect has survived long past their historic meeting in Madison Square Garden back in 2016. 
On Saturday night in Denver, McGregor was ringside for what was Alvarez's debut in the Bare Knuckle Fighting Championship arena where he scored a close decision win against another former McGregor opponent. And McGregor was most certainly a keen observer, as he could be heard on the broadcast bellowing instructions into the ring — with one suggested shot selection, an uppercut, being acknowledged by Alvarez.
Speaking to Ariel Helwani on Monday's edition of The MMA Hour via MMA Fighting, Alvarez acknowledged the 'moment' with his old foe.
"He was yelling for uppercut, and I was kind of recognising that Chad was hitching, he was doing a little hitch before he came under, and Conor picked it up and then he was mentioning it as soon as he was against the [ropes]," Alvarez said. "As soon as he yelled uppercut, I was like, 'I see it,' and then I landed it and I was like, 'Good call.' It was a good moment. He recognised it, I recognised it, and I think that was that."
He continued: "Someone said he was yelling shit for Chad too. I don't think he had a horse in the race, I think he just wanted to see a good fight and he was just recognising some things that were going wrong and he was trying to coach guys.
"For him, he's a winner already. He beat both of us. He shows up with his f*cking whiskey, rich and doing nice shit, and good, I wish the best for everyone in this sport. It's a very difficult life, it's very difficult to make money, and when he's done what he's done for himself and for the sport and for his family, I'm all for it. I have no animosity to any of my opponents. We're all in this crazy, uncertain life journey. It's difficult, and if you can do what he did, I'm all for you."
After the main event between Mike Perry and Luke Rockhold on Saturday, McGregor was called into the ring by the victorious Perry for a staredown — and Alvarez said that if the Irishman ever opts to try his hand at bare-knuckle, that he would account himself very well.
"I think Conor's boxing is phenomenal," Alvarez explained. "He's really rangy, like awkwardly rangy. He's shorter. He's not tall, but his knuckles drag. He has really long reach for his size. I think he'd do well. I think he'd do really well. And his team behind him, Owen Roddy and his boxing crew, they're intelligent, they're smart. They pick up stuff that — I think they'd do really well.
"The clinch is a little different. It's f*cking junkyard dog shit, so the cleaner boxer doesn't always win in this sport. I've seen championship boxers get out-dogged and beat up in the clinch, and get knocked out or knocked down, so it's not always the cleaner, better boxer that prevails, but I think he'd do just fine."
And if that opportunity for a rematch was ever proposed?
"I'd f*cking love it," Alvarez said. "Bring it. Every day, all day."
Comments
comments