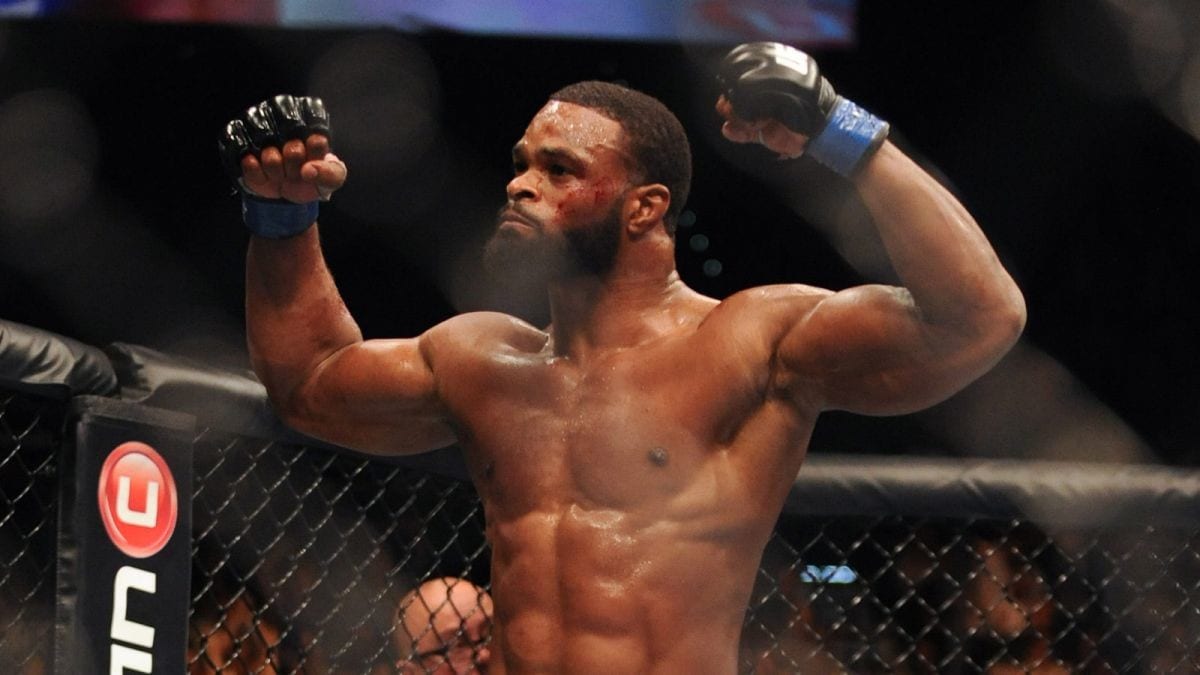 Tyron Woodley is predicting the type of performance against Jake Paul this weekend which he says will 'break the internet' when he knocks out the popular YouTuber turned boxer.
Woodley, whose UFC run ended on the back of four straight defeats, says that his preparations for this Sunday's contest have been as good as anything he has ever had throughout a career in which, at one point, he was the world's undisputed top welterweight fighter.
"I just can't wait to play the spoiler," Woodley said on the MMA Hour via MMA Fighting. "That reminds me of the younger version of Tyron Woodley — what Jake Paul is doing. All of the down-the-road looking at other fighters, all of the setting up the Furys to fight on this card, and 'if then, if what's about this,' and doing all of the additional media and all of the additional bullsh*t.
"I'm just going to sit there and smile because I did it once. But I wisened up now as an OG, to know that I'm representing MMA, but I'm representing the OGs for real. Not the older guys, but the real people who really stand for something, that really have been around the block a couple times and they've got war wounds to prove it."
Woodley, who has spent time training alongside Floyd Mayweather in his fight camp, says that 'MMA OGs' will revel in his performance in which he plans on shutting up the brash Internet personality Paul.
"That's what I stand for," Woodley stated. "And anybody who really f*cks with that is going to love this performance. They're going to love these hands going upside his head. And I didn't buy into the bullsh*t. I didn't buy into the Disney stuff. I didn't buy into the drama or taking on extra pressure that he did. He's got so much pressure on him. And I'll look to go out there and make an example and make a statement."
And now, just days out from the fight, Woodley says that Paul has no choice but to fight him — and any opportunity to pull out has long gone.
"It's too late. He's going to be the biggest b*tch in the industry of female dogs if he backs out of this fight now," Woodley said. "So now I can talk for real. Now I can say what we really were doing. Now I can show you guys. Come Saturday, if you guys are not subscribed to me on YouTube, subscribe. Saturday, I'm breaking the internet.
"I promise you, it's going to be internet breaking. This entire camp has been a movie.
"If he tried to pull a Covid-19 [and withdraw], I'm coming to his hotel and I'm sticking a Q-tip in his nose and I'm going to do it for seven tests," Woodley said. "I want to see some x-rays. I want to see some ultrasound. I want the doctor to produce the [positive test] to me personally. Because he doesn't really understand that the force I punch with and the certainty of me landing and me seeing it before it happens. It's not something that a sparring partner in Puerto Rico can display and mimic and perpetrate."
Comments
comments