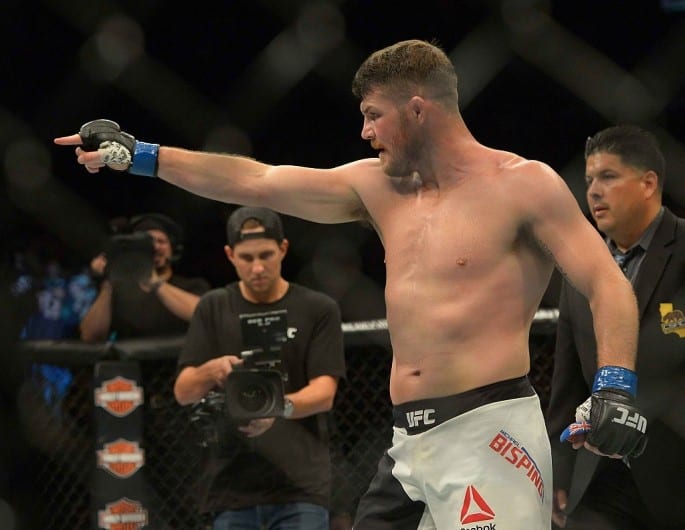 Michael Bisping is making no qualms about who he is rooting for in this weekend's boxing match between Evander Holyfield and Vitor Belfort. 
Bisping has a long history with Belfort, losing to the Brazilian fighter in the UFC cage back in 2013 via head kick and punches TKO. The thing is, Belfort tested positive for PEDs in the wake of that fight — and it also just so happens that Bisping lost the use of his right eye as a result of that headkick, and this is a situation which still irks the former UFC middleweight champion.
"I hope Evander beats the f*ck out of him," said Bisping on his 'Believe You Me' podcast, as noted by Middleeasy. "That's all I'm going to say, I'm not going to go into a technical breakdown of it. God knows what Vitor has been doing. We knew he had good boxing, we knew he had fast hands, we knew he could pack a punch.
"Evander Holyfield is a big dude, I f*cking hope [he wins]. I would take great pleasure in that. I don't care what you say, he was on juice and he beat me fair and square. When people beat me in the past, I don't harbour a grudge, I wish them all the best… He's just a piece of sh*t. I don't give a f*ck. I hope Evander batters him."
Holyfield, 58, was drafted in to fight Belfort on short notice after original opponent Oscar De La Hoya was removed from the contest after contracting Covid-19 in recent days. The fight had been intended as 'The Golden Boy's' comeback bout, but it will instead feature Holyfield's first professional fight in over a decade.
The former world heavyweight champion, who owns two wins over Mike Tyson, recently confirmed that he was in training for a comeback fight and had agreed a deal to box Ireland's Kevin McBride until the opportunity to replace De La Hoya against Belfort came about.
The fight takes place in Florida this Saturday night.
Comments
comments