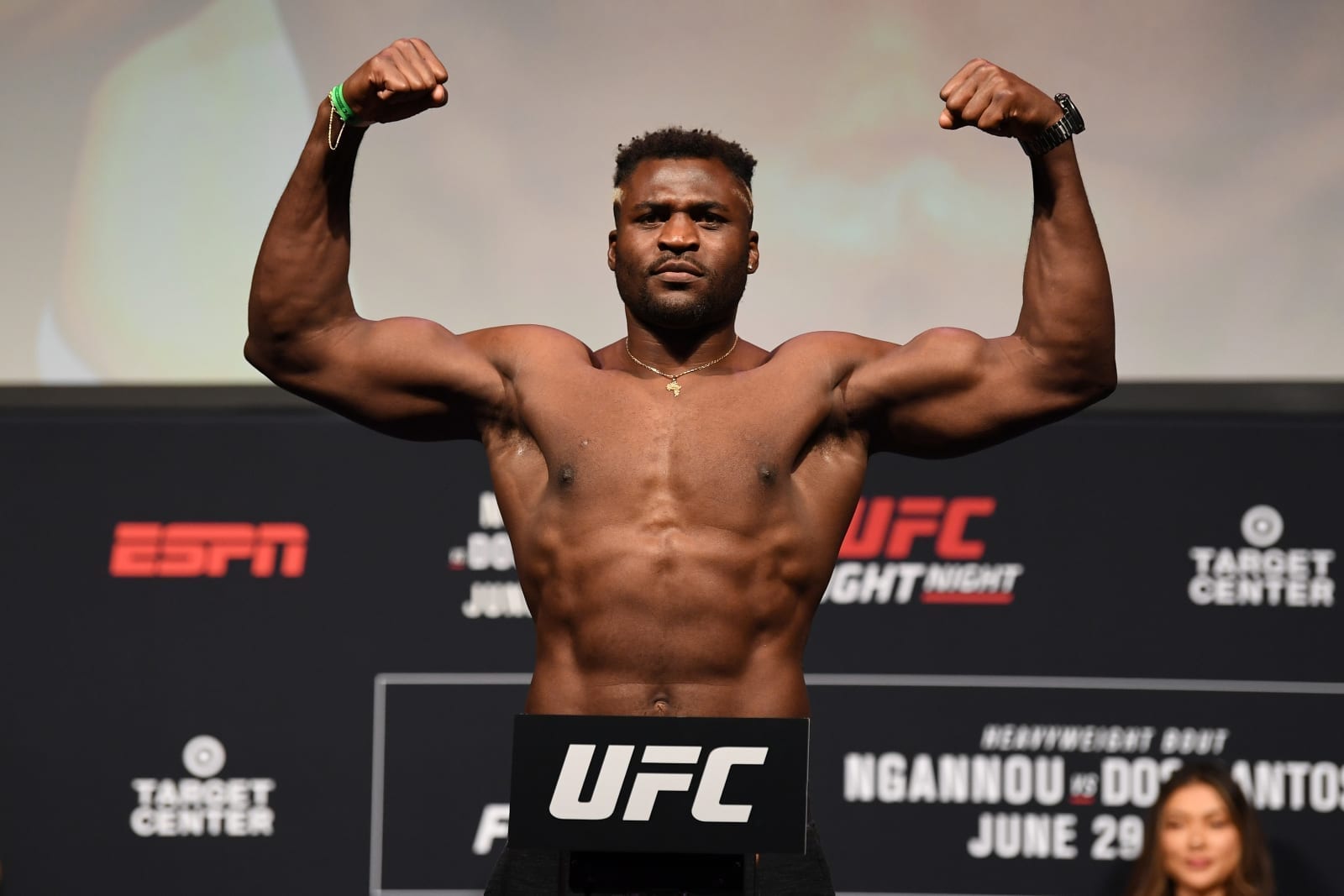 It has been one of the most consistent narratives bubbling under in the UFC's heavyweight division — but Francis Ngannous is sick of hearing about Jon Jones' will-he-won't-he heavyweight debut.
Jones, the longtime former light heavyweight champion, surrendered his 205-pound title shortly after defending against Dominick Reyes in February 2020 and announced that he would likely be continuing his career at heavyweight. However, a pay impasse with the UFC put paid to any immediate matchups with the division's top fighters — but he said in a recent interview that he is looking towards April or July 2022 as the most likely date.
"I'm looking to fight somewhere in April, possibly Madison Square Garden, or a total opposite date, possibly July at International Fight Week," Jones said to KRQE. "Those are the two dates that I'm kind of eyeing. I think it'll depend on who wins in January between Francis Ngannou and Ciryl Gane, and we'll just take it from there."
Ngannou and Gane will clash in the UFC 270 main event on January 23 but the current titleholder says that he is sick of all the speculation about Jones' move to his weight class.
"Personally I don't really care about that anymore," Ngannou stated to MMA Junkie. "There is a lot of talk about Jon Jones. He says a lot of things, yet we are still here. I wasn't even expecting to fight someone other than Jon Jones after the Stipe (Miocic) fight, but here I am. It's almost 10 months away, I'm going to fight Ciryl Gane which wasn't in the picture, in the landscape at that moment at all.
"What Jon Jones says and what Jon Jones does is two different things and I can't bet on that," Ngannou said. "I can't put my money on that. I just do what I'm going to do and we don't know what the future holds for us. It's not something that I'm running against anymore."
Regardless of his protestations, a fight between Ngannou (provided he gets past Gane) and Jones would do some serious numbers, and we expect that his head could easily be turned once more so long as the bottom line makes sense.
Comments
comments