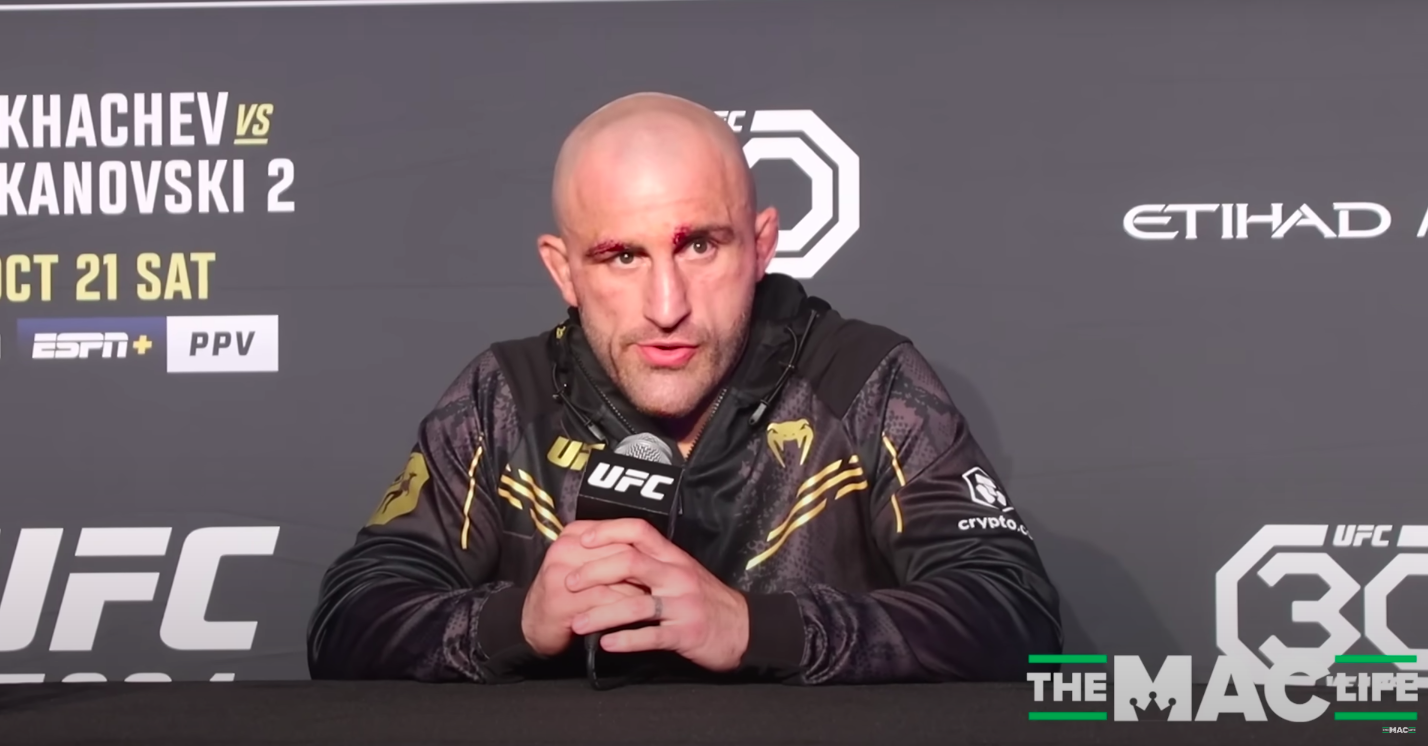 Fighting can take a lot out of your body but sometimes it demands something from your soul, too.
Last Saturday night in Abu Dhabi, UFC featherweight champion Alexander Volkanovski came up short in his second bid to become the UFC's latest double-champ, losing by first-round TKO to reigning titleholder Islam Makhachev in a fight he accepted on less than two weeks' notice.
Speaking afterwards, a clearly disappointed Volkanovski explained that he accepted the fight, in part at least, because he had been struggling in recent weeks and months coming off elbow surgery, and said that sitting idly on the sidelines while he is in his athletic prime 'does his head in.'
But speaking in a video clip uploaded to his personal YouTube channel, as noted by MMA Fighting, Volkanovski says that he is glad fight fans saw this side of him after what was one of the most disappointing nights of his career.
"That was raw emotion you seen," Volkanovski said in the video. "But I want everyone to know I'm OK as well. I think people got to remember that obviously I did have a bit going on. I just got tagged, I just got knocked out. I lost. Obviously legacy-wise, all these things are coming to play, and that was obviously hurting.
"One thing I do want to say, even though I'm fine, I'm sort of glad you got to see that sort of raw emotion and we do touch on the mental side of things when it comes to everyone, not just fighting, athletes, men, anyone in general. I think it's good for awareness. I think these are conversations people should be having."
He added: "I do want to clear the air, I was struggling the last few months. The newborn, surgery, not being in the gym as much as I would like and trying to be the best father I can be, [it] can take away a lot from the training, especially when you're coming off injuries. So I wasn't able to be in the gym as much as I like, which sometimes can make things a little more difficult.
"Two things that are most important to me: my family and my career. That's how I look after my family. They're my two purposes in life, providing for my family and how I do that is my fighting. I'm in my prime and sometimes you put a bit of pressure because I know I need to make the most of me in my prime because my days are numbered.
"Me and my wife, we're great, again got a beautiful family life, we're all good so I want everyone to know that. I don't want everything thinking that it's not like that. It's me trying to deal with being a high performance athlete and not being able to fulfill that side of things, especially the last few months."
One thing mentioned by Volkanovski after the fight was his desire to get back into the cage as soon as possible as he eyed up a January date with top featherweight contender Ilia Topuria.
"I don't need a break," Volkanovski explained. "I want to get back in camp. Obviously, I need to talk to doctors to make sure there's no concussion, stitches and what not but I want to get in camp.
"Like I said, I'm the best version of myself inside and outside of the cage when I have clear direction. Clear direction is me having a fight and I think January still looks great to me. Ilia Topuria is obviously a very exciting fight and I can shift all my attention to that."
Comments
comments