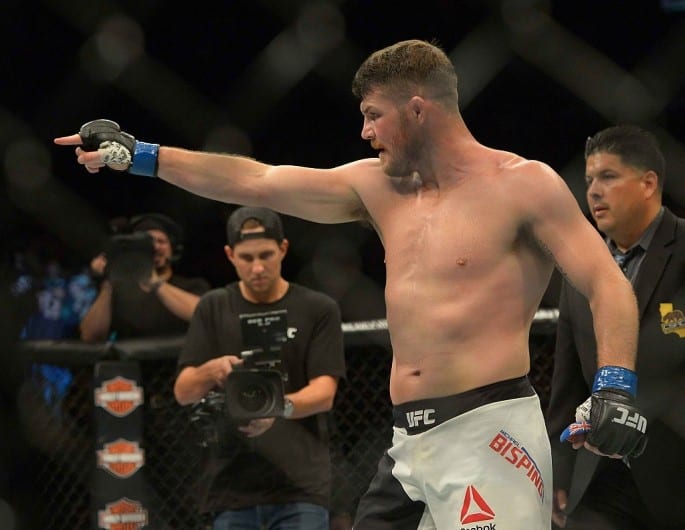 Former UFC middleweight champion Michael Bisping is confident that he could have handed current champ Israel Adesanya a loss had he faced 'The Last Stylebender' in his prime.
Adesanya is tasked with defending his middleweight title against Marvin Vettori this weekend in a rematch of a fight which Adesanya won by split decision in his early UFC career and while the Kiwi is considered to be among the finest 185-pound titleholders in the organisation's history, Bisping says that he would have given Adesanya a run for his money.
"Listen, I'm going to say yes, of course [I could beat Israel Adesanya]," Bisping said to the Mirror. "I do firmly believe that I could. However, with me separated from the sport like I am now, not actively competing, it's disrespectful for me to say that, but you ask any fighter they'll always says yes.
"That's what's in us, we all believe we could do it, of course I'd need to train for 3-6 months but yeah I do believe I could do that, but that's also disrespectful to Adesanya. I'm not competing so it's easy for me to say that and I don't have to back it up.
"But just the same way I knew I was the man to beat Anderson Silva, yeah I think I could beat him, even though some people might call me stupid."
Bisping won the UFC's middleweight title when he scored a first-round knockout of Luke Rockhold in the summer of 2016 in a fight which the Brit took on short notice after the injury withdrawal of Chris Weidman. Bisping never looked back, scoring revenge against Dan Henderson in his first title defence before dropping the belt to Georges St-Pierre in New York in November 2017.
He retired soon after losing to Kelvin Gastelum just four weeks later.
And Bisping says that his perception of how a fight with Adesanya would go down doesn't take away from the New Zealander's status as champion.
"The reality is, Adesanya is an incredible champion," Bisping added. "I'm a massive fan of the guy and I think he's incredible at what he does.
"He brings a lot of eyeballs to the sport, he's a huge star and he's got a great fan-pleasing style so I absolutely love it, I never miss an Adesanya fight, simple as that. Stylistically, when you look at these two, Adesanya is a tremendous striker, the finesse, the speed, the precision, he's a sniper or whatever, he's that bloody good."
Comments
comments