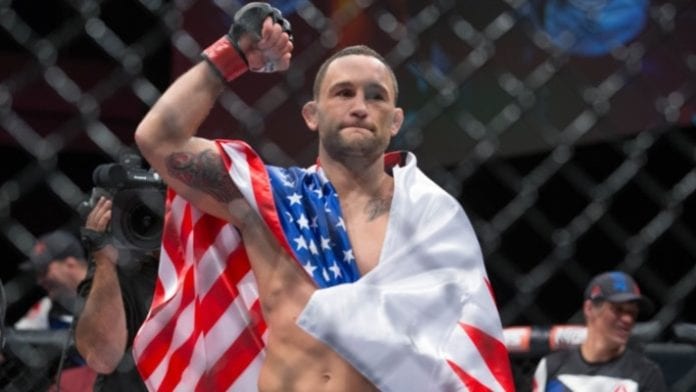 After 35 fights, wins in three separate weight classes and world title, Frankie Edgar will call time on his (presumably) Hall of Fame career at UFC 281 in Madison Square Garden in less than two weeks — and the 41-year-old says that he knows the time has come for him to hang up the 4oz gloves.
Edgar was once considered a pound-for-pound great in the sport, particularly following his pair of performances against BJ Penn to win and defend the UFC lightweight title and his subsequent defences (a draw and a win) against Gray Maynard back in 2010 and 2011. He would go on to lose three on the bounce (Benson Henderson x 2 and Jose Aldo) before going on a 7-1 tear which was ended by a Brian Ortega uppercut in 2018. Since then his career has shown two wins against four defeats.
"I know I can't fight forever," Edgar said via MMA Fighting. "I could definitely string it on a couple more years probably but I know I'll never move on to what's the next chapter in my life. I think now I'm being selfish when I'm still trying to chase this and I've got a family and kids that want to have goals of their own. They want me around and probably want me to be able to speak good and have my wits about me. I just know it's probably the best time."
He added that fighting is a young man's sport and that he wants to step away before he tempts fate with injuries.
"It's definitely in the back of your mind," Edgar said of the hazards of competing in combat sports. "You can't help but hear talks of that in sports and especially in our sport but across all sports. It's not like I notice anything like oh man, I'm forgetful or I'm slurring my words but I don't know if that's how it works. Does it happen one day, you wake up and you're messed up or does it happen gradually? Who knows.
"I don't want to be that guy [who hangs around too long]," Edgar further explained. "It's not fair to put my family through that either. My pride doesn't want to deal with that either. I feel like I can still hang with the best in the world.
"[But] I think in the past, I would have won those fights and now I'm not winning those fights. I don't know if that's the way time goes or guys are getting better or that's the breaks of this game. Now's the time. We get one more in New York, right in my backyard, a lot of history there. I think it's a good sendoff."
Edgar fights Chris Gutierrez on the UFC 281 main card in Madison Square Garden later this month.
Comments
comments