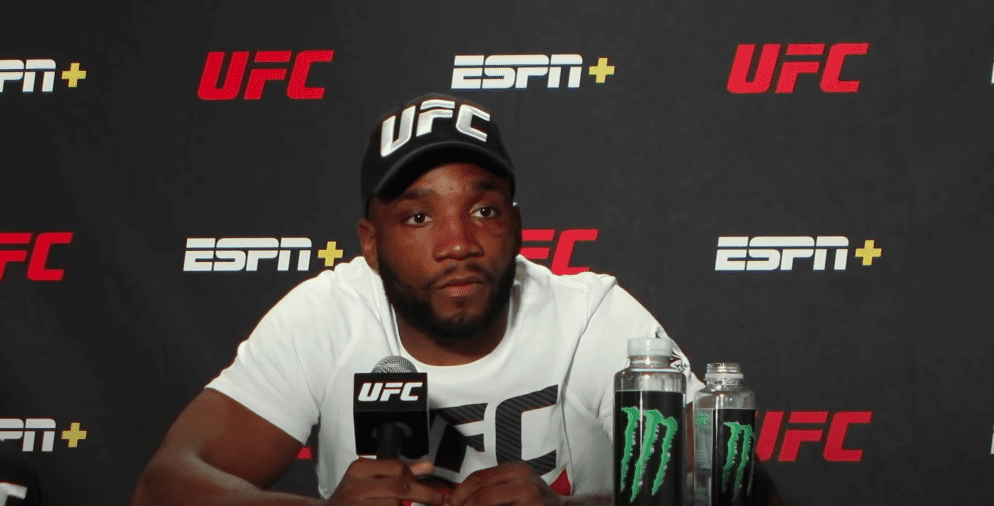 Things didn't quite go as he expected on Saturday night but Leon Edwards is of the opinion that his recent body of work inside the UFC cage is enough to grant him a shot at Kamaru Usman's welterweight title.
After an impressive first round by the Jamaican-born Brit in Saturday's UFC main event against Belal Muhammad in Las Vegas, the fight took a turn in the second when an inadvertent eye poke landed by Edwards brought about a no-contest. While this was an unsatisfying conclusion for the Edwards, who was pursuing his ninth consecutive win at 170-pounds, he detailed afterwards that his goal is a world title shot, and the happenings in the cage on Saturday isn't making him lose sight of his ambitions.
"First obviously would be apologize to Belal Muhammad," Edwards told the media, including TheMacLife, afterwards.
"I came off a long, long year and a half for me. I prepped so hard. It's upsetting. I wish him well, wish him a full recovery. [I was] going into the fight with the mentality of I wanted to fight for the belt next. So now I'm like what's next? What do I do now? Is it a rematch? Is it someone else? I feel I deserve a title shot."
Edwards took the fight against Muhammad after a series of scheduled dates with Khamzat Chimaev fell apart in recent weeks, with 'Rocky' campaigning for a fight with Colby Covington. In the end, Muhammad was the opponent drafted in and despite the lack of closure in their contest Edwards says that the fight doesn't require a sequel.
"I don't feel I need to fight him again," Edwards said. "I only fought him because all the other guys turned me down. The writing was on the wall. I was winning the fight clearly. And I don't feel I need to fight him again. I need to move forward.
"That's there. I can do it but I belong in a title shot," Edwards responded when asked about Covington. "I've worked my way back up from last getting defeated by Kamaru Usman. I have fought everybody. I have offered to fight everybody. I feel I deserve a title shot now. Why should I go another 10 fights to get a title shot? I believe I deserve a title shot next."
Comments
comments