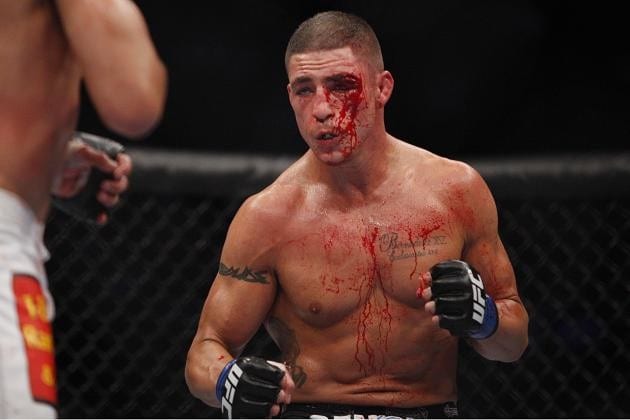 UFC Hall of Fame fighter Diego Sanchez recently announced that he was to split from his controversial trainer Joshua Fabia after a string of controversial incidents in recent months which ultimately resulted in Sanchez being released from the UFC days out from what was likely his final fight with the company against Donald Cerrone.
Fabia, the guru behind the so-called 'School of Self Awareness', had teamed up with Sanchez for his final few fights with the UFC but became a reviled figure within the sport amid suggestions that he was taking advantage of Sanchez — accusations which grew to a deafening roar when video footage was released showing Fabia kicking and punching Sanchez, who was suspended upside down from the ceiling, under the guise of it being a legitimate training method.
Further footage was also released showing Fabia berating the UFC commentary team, including Jon Anik and Paul Felder, in a pre-fight meeting prior to Sanchez's bout with Jake Matthews.
Sanchez subsequently announced that he was to part ways with Fabia, which led Fabia to accuse Sanchez of "taking advantage" of him for the past two years.
And now, referencing the matter of social media, Sanchez has issued an apology for anyone he feels was caught up in he situation.
View this post on Instagram
This is Diego I'm back! To my fans I have to be honest I have nothing to do with Diego Sanchez @onlyfans that was all Joshua fabia and Rebbeca Hidalgo his assistant. So please don't entertain the illusion and I'm sorry if some loyal fans thought they were talking to me in the DM.

— Diego Sanchez UFC (@DiegoSanchezUFC) June 2, 2021
"To all of my family, friends, fans and the MMA community," Sanchez wrote. "Thank you all for your continued love and support through this very challenging time in my life. I appreciate all of the defense that arose for me on behalf of my career, myself and all of those who were involved. Thank you for those that have been sensitive to this situation. I apologize to all of those that were affected negatively. I will refrain from provoking this situation any longer.
"I refuse to fire back on accusations that in the intent were made to provoke me and those close to me. Once again, my faith has taught me to love thy neighbor and love thy enemy. I wish for peace to surface moving forward. Luke 6:27-36. I will lift Josh and Rebecca up in prayer. Prayers that god helps them find their peaceful awareness. In Christ, Diego Sanchez."
Sanchez also addressed the issue on Twitter, writing: "This is Diego I'm back! To my fans I have to be honest I have nothing to do with Diego Sanchez OnlyFans. Yhat was all Joshua Fabia and Rebbeca Hidalgo his assistant. So please don't entertain the illusion and I'm sorry if some loyal fans thought they were talking to me in the DM."
Comments
comments