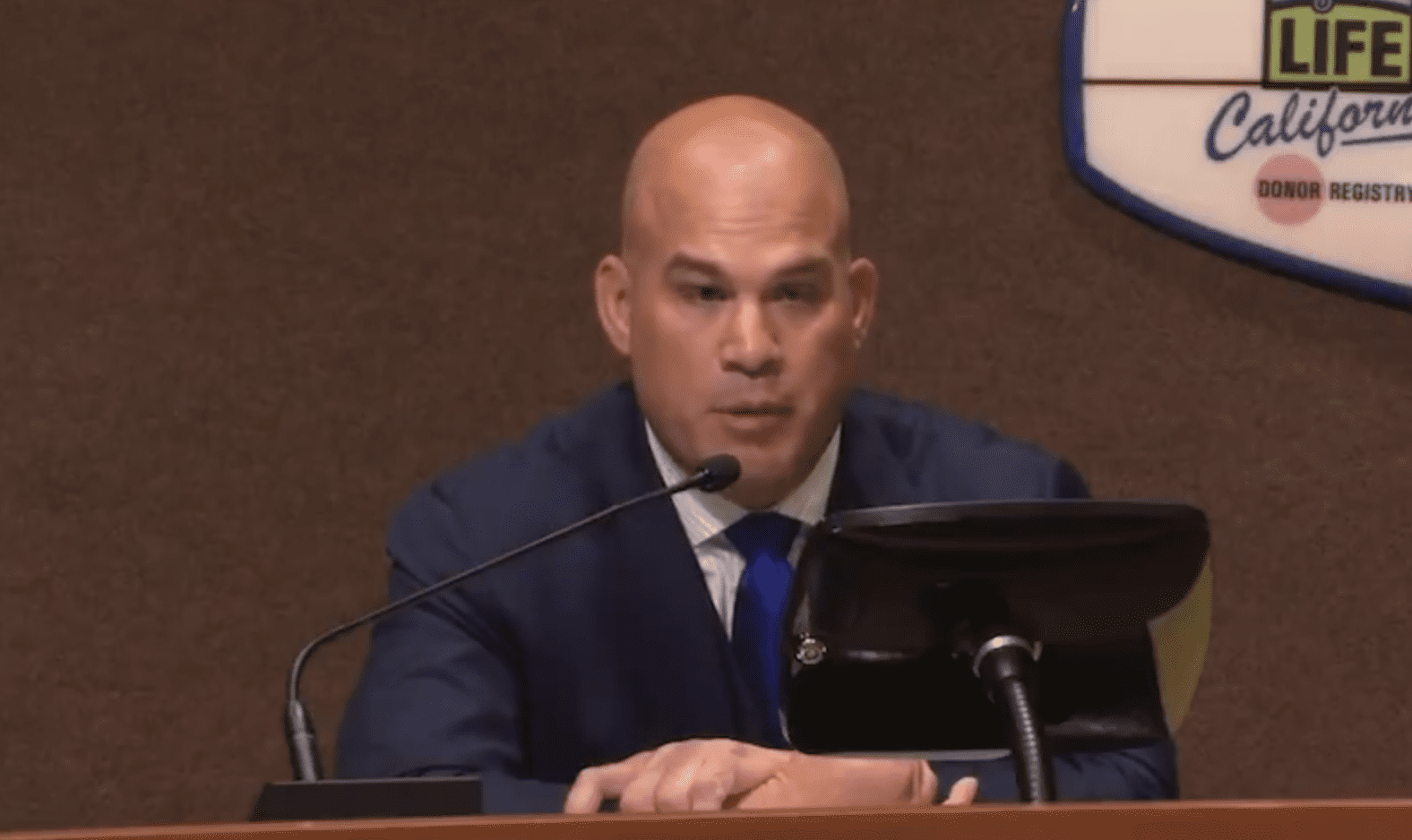 Tito Ortiz has resigned from the Huntington Beach City Council as mayor pro tem.
Ortiz, who has been in the role for just under six months, made his announcement at a council meeting tonight. The former UFC light heavyweight champion and Hall of Famer stated he was forced out of his role after being met with hostility and having his character assassinated.
"I ran for this position with hopes to better my community, work on my constituents and give them a voice, making our beautiful city safe and clean, and to ensure a bright future for my children," Ortiz said. "[I was] under a notion that I was in a bipartisan position and we all had the common goal that our city and our constituents could have. To put it frankly, that was not the case.
Tito Ortiz announces his resignation from the Huntington Beach City Council. pic.twitter.com/vVzsLNf9zu

— Oscar Willis (@oscarswillis) June 2, 2021
"From day one, I was sworn in and I was met with hostility and judges. Being a man of public figure, nothing is new, however, to be sole focus of character assassination each and every week with multiple news stories and leaked personal information all in which were in hopes to slander and defame my name.
"I thought I was up to this job, but I knew I had over 40,000 constituents who were there counting on me. As of recent, the attacks against me have moved in to involve my family, and I now feel for their safety is in danger. To put it simply, this job isn't working for me. I'm sorry t0 let down many of my supporting H.B. constituents, and I pray they'll understand."
While Ortiz may have a point that he has been met with huge vitriol during his time as a council member, he is perhaps ignoring his own role in that scenario. Since his induction into politics, Ortiz has spent much of his time spouting conspiracy theories about the government, the seriousness of the coronavirus, the effectiveness of masks and vaccines, as well as any other number of baseless claims.
I hope Tito continues to post these reaction videos whenever he gets denied service or kicked out for not wearing a mask 😂 pic.twitter.com/62YmpjPMlO

— Borrachinha Depot (@FullContactMTWF) January 17, 2021
He frequently clashed with his colleagues over his refusal to wear a mask, and on occasion would only take part in the council meetings via Zoom while masks were a requirement. At one point, it led to a motion being tabled where Ortiz was accused of not fulfilling his job requirements.
"Unfortunately, Mr. Ortiz has failed to perform at a level expected for his position and has demonstrated little commitment to serving in the role with honor and dignity," read a release from the council in January. "His unprofessional demeanour and poor judgement have raised concerns among resident, local business owners, and his fellow council members. The Huntington Beach community expects local elected officials to take their governing responsibilities seriously and we whole heartedly agree."
Comments
comments