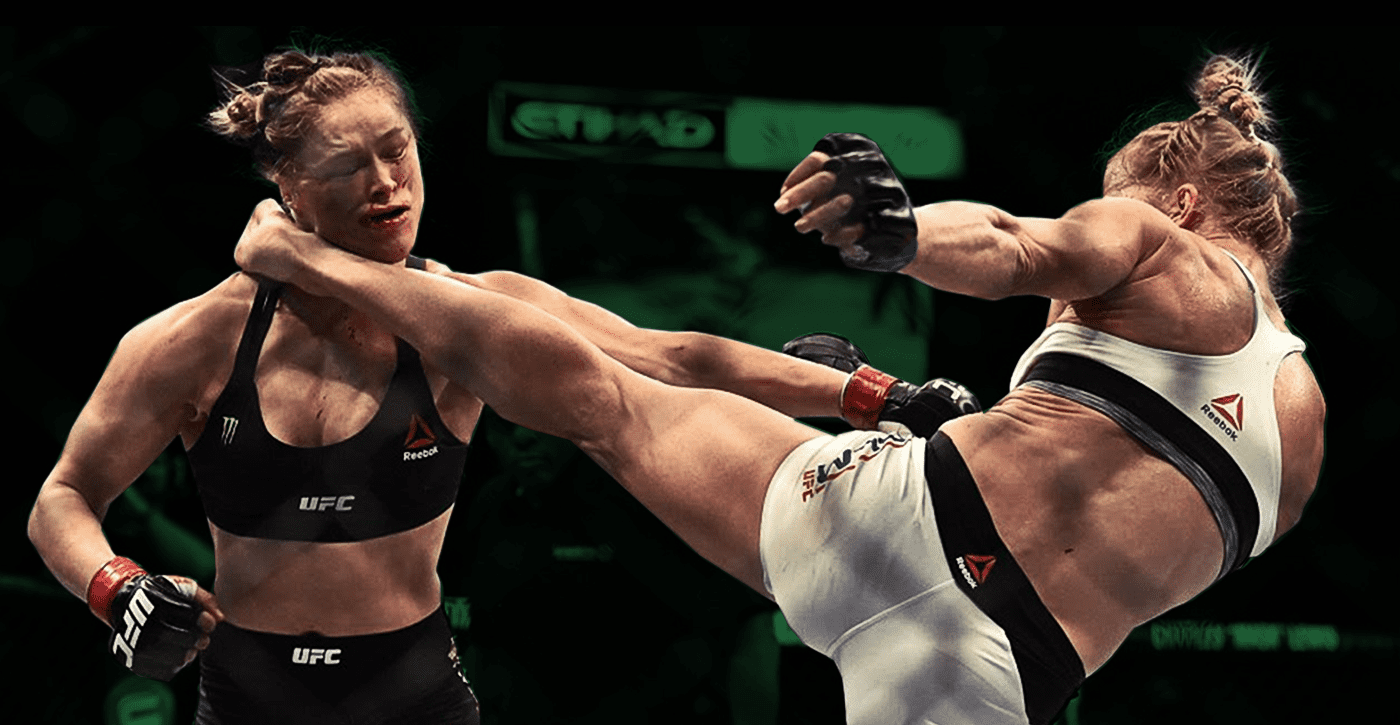 For what was supposed to be a routine title defense, something had seemed slightly.. off about Ronda Rousey in the days leading up to UFC 193.
She was at the height of her powers. With twelve victories and no losses, by the time Rousey was scheduled to face Holly Holm in Melbourne, Australia (two years ago today), she was arguably the biggest name in mixed martial arts. Having just knocked out Bethe Correia in Brazil — where she was notably cheered by the country's residents over their own native daughter — Rousey was on top.
Comparisons of her to Mike Tyson were in full effect, UFC commentator Joe Rogan and UFC president Dana White were both gushing with praise at every opportunity. Rousey dominated the sport both in and out of the cage.
When she announced she'd be facing Holly Holm on Good Morning America, the words had barely left Rousey's mouth before it was derided as a reach of a match up. Holm may have been undefeated, at the time 9-0 in MMA, but her first two appearances in the UFC had been dull, tentative affairs resulting in a split and unanimous decision. She was regarded as a quality striker, but had shown nothing of any substantial evidence that she could trouble the champion.
We may think of the contest different now, but odds agreed with fan prediction. Holm could be found as a +700 underdog, with Rousey reaching betting lines of over -1000 in some places.
And yet.
As the fight got closer, Rousey's demeanor changed. Previously the consummate professional, Rousey for the first time appeared to notice the size and strength of the hurricane she resided in the eye of. Female fans flocked to her showings, often crying with joy when they met her. For someone previously unshakeable, (and with hindsight being 20/20) pressure cracks started to rumble.
Indeed, looking back, it's almost as if there was just one person who knew things weren't going to be as simple as predicted — Rousey herself. If during a week of media Rousey appeared to grow increasingly frustrated with the circus around her, her subsequent appearance at the weigh-ins was downright out of character.
After an odd scuffle with Holm caused by the two women challenged the other for arm positioning, Rousey took the microphone and let out an exhausted, near delirious rant. Complete that with a furious social media post, and the champion going into fight night seemed far from the stone cold killer Rousey had been in every contest prior. (Even in the fight with Corriea, whose pre-fight trash talk blurred the lines of decency, Rousey had remained calm and collected throughout).
The bitter feelings Rousey had carried over, and to the surprise of the Australian crowd, she refused to touch gloves with Holm before the fight started. If eyebrows were raised by that, it took just under thirty seconds before they went up further.
Rousey's bulldog style, hopping straight forward to close the distance and wing in hooks, was the worst possible style a Holm opponent could implement. It became the bull vs. the matador, with Holm jamming her straight left into Rousey's increasingly bloodied face over and over. By the time the headkick came, Rousey was more a staggered zombie than graceful judoka.
The downfall was instant.
No sooner had Rousey's head smashed to the canvas, viewers — even former supporters of Rousey — took to gloat, post memes and generally relish in what they perceived as arrogance undone. Names like Lady Gaga, 50 cent and Donald Trump took to social media to lambast Rousey, pointing to her behaviour in the days leading up to the fight as some cosmic karma debt that needed to be paid.
Glad to see that @RondaRousey lost her championship fight last night. Was soundly beaten – not a nice person!

— Donald J. Trump (@realDonaldTrump) November 16, 2015
After the defeat, Rousey went into hiding. While a short Instagram post assured her fans that she was healthy and okay, it was another few months before Rousey appeared on our screens. And after that appearance, it was nearly a full calendar year before we saw her again, particularly after she refused to speak to any MMA media — perceiving them as having been amongst the number who celebrated her worst moment.
When we did, it was the same again, only worse. A one round mauling at the hands of Amanda Nunes. Really though, that fight will be considered the re-affirming stamp to end Rousey's, not the true moment.
So with that all said and done, what are we left with? What is the legacy of Ronda Rousey?
Well, it's complex.
A feminist icon who never particularly advertised herself as one, Rousey clearly inspired millions of young women across the globe. Even in spite of her imposed media blackout, women (some just young girls) travelled to see her and support her where they could. Few, maybe even no other UFC stars (with the exception of Conor McGregor) have really struck a chord with a core audience and formed such a bond with them that no defeat can shake.
But the disappointments must be noted. There was something tragic and saddening by her refusal to address her defeats. Maybe it's because she took the losses so personally — a look at her appearance on Ellen following the loss to Holm can show us that — that she couldn't do it. Maybe she felt too betrayed by the outlets who had once raised her up and paid tribute in victory, only (in her mind or in reality is up for debate) to drag her down and deride her in defeat.
One thing that's hard to deny is how clear her athletic dominance, and brutal defeats, effected her overarching career. Prior to the Holm defeat, Rousey starred in Hollywood franchises like the Fast & Furious and the Expendables. She was set to be the star of a RoadHouse remake. An autobiography had been published, and a film was in the works with Rousey to play herself. Those projects are no longer discussed — although it seems increasingly likely that a move to professional wrestling (of which Rousey is a lifelong fan) is in the works.
It's often been said that athletic careers are only truly appreciated once the athlete in question has left the sport and fans are given time to reminisce. Just as the careers of old favourites like Royce Gracie and Chuck Liddell are no longer compared to the modern names who followed them, perhaps soon Rousey's career will be treated as the pioneering feat it was. The questions of her opponent's abilities and Rousey's role in today's division will fade to insignificance, and she'll be looked back on as a legend who started it all, single handedly opening the door for women to fight in the premiere mixed martial arts organisation, and in doing so forcing them to be respected as the athletes and fighters they are.
Today though, it seems that's not yet the lens through which Rousey is viewed. Instead, perhaps spurred by the manner in which she took her defeats, and the quiet sombre way in which she left MMA, it feels as — for now at least — Rousey's UFC career will continue to be bookended by the violent imagery of Holm's left shin thudding into her temple on November 14, 2015.
Comments
comments