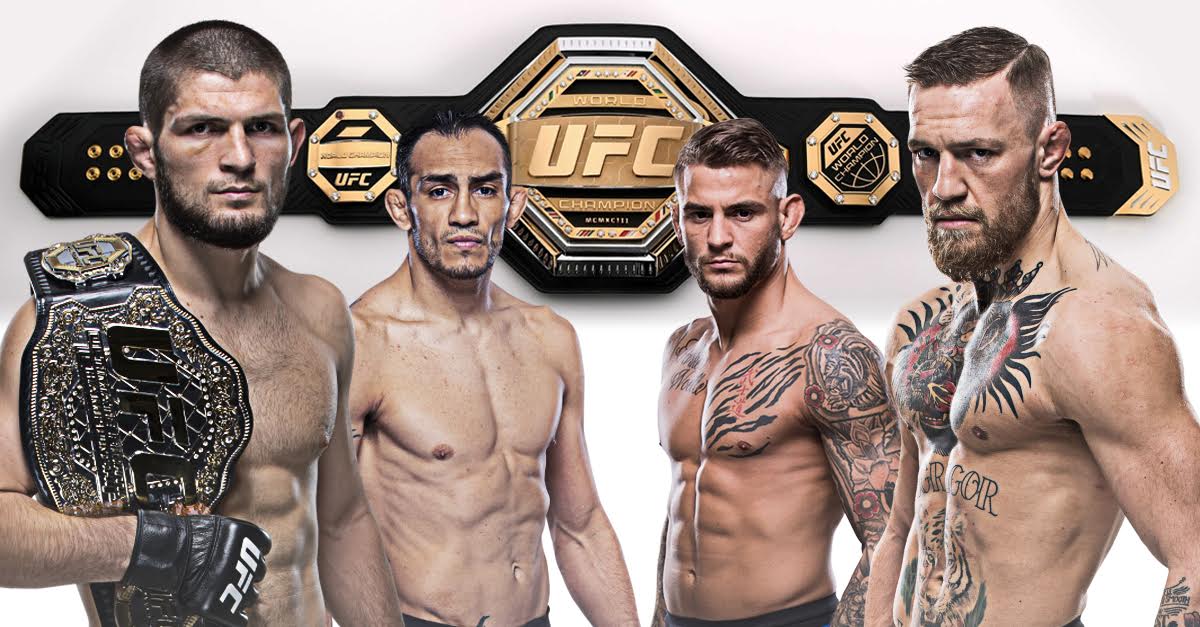 At different periods over MMA's 25+ year history, certain divisions have become the 'poster child' weightclass for the promotion.
It started with, understandably, the heavyweights. Names like Fedor Emelianenko, Mirko CroCop, and others were the ones who garnered most attention, with battles occasionally organized that were branded the then biggest in the sport.
From there, we dropped to 205-pounds. Chuck Liddell, Tito Ortiz, Randy Couture and the rivalries between them meant light heavyweight became the mainstream attraction.
While there are plenty of big names — now men and women — across the world of MMA, the past few years have had us firmly in the era of lightweights.
But for such a mainstay attraction, 155-pounds has consistently been a tumultuous landscape. Interim titles, suspensions, boxing matches, numerous fights falling through at the last moment… you name it, it's plagued it.
This Saturday night, Khabib Nurmagomedov meets Dustin Poirier in the Abu Dhabi desert to make the lightweight title undisputed, in a fight that until a few months ago seemed out of the mind of most fans and pundits. Despite the apparent unexpected nature of the fight, it could well prove to be a steadying of the ship, and bring order to one of the most disorganized divisions in combat sports.
But how did we get here? Well, simply put, here's a helpful step-by-step guide.
November, 2016 – Conor McGregor defeats Eddie Alvarez
At UFC 205, UFC featherweight champion Conor McGregor moved up a division to meet lightweight title holder Eddie Alvarez in the highest profile champion vs. champion bout in UFC history.
McGregor, who entered the fight on the back of an epic two fight Summer streak with Nate Diaz, went through Alvarez, defeating him in two rounds after one of the best title fight performances ever.
August, 2017 – Conor McGregor boxes Floyd Mayweather
Based on the Irishman's popularity, as well as his being the first man to hold two UFC titles simultaneously, a historic boxing bout between McGregor and Mayweather was signed.
Meanwhile…
October, 2017 – Tony Ferguson defeats Kevin Lee for an interim title after Khabib Nurmagomedov hospitalized by weight cut
With McGregor out making a windfall in cash, the UFC moved to create an interim champion in his absence. The natural decision to make Khabib Nurmagomedov vs. Tony Ferguson — a contest long desired but twice scuppered — for the interim title was made.
The pair were scheduled to meet at UFC 209, but Nurmagomedov fell sick during his weight cut and was hospitalized the day of the weigh-ins. Since bouts between Nurmagomedov and Ferguson have fallen through on multiple occasions, fans may remember this one for the controversy over Nurmagomedov's eating tiramisu during fight week.
Ferguson was then moved from UFC 209 to UFC 216 and scheduled to fight Kevin Lee, with an interim title still involved. Ferguson survived an early scare to win.
April, 2018 – Ferguson injured by wire, meaning Ferguson vs. Khabib becomes Khabib vs. Holloway.. which becomes Khabib vs. Al Iaquinta
With McGregor and the UFC yet to come to terms on a contract for his return, the promotion booked Ferguson vs. Nurmagomedov for UFC 223. While Ferguson was still officially the interim champion, UFC president Dana White announced that the moment the contest between the two started, McGregor would be stripped of his 155-pound title and Ferguson vs. Nurmagomedov would be competing for the unified belt.
Then, on April Fool's Day of all days, Ferguson was injured during promotional duties for the UFC, tripping on a wire and shredding his knee. As a late notice replacement, UFC featherweight champion Max Holloway was brought in to meet Nurmagomedov, potentially to become a double champion. Unable to compete with the injury, Ferguson was stripped of his interim title.
To wrap up a dramatic week, Holloway was pulled from the bout after his own bad weight cut the day of weigh-ins, and Al Iaquinta was put into the title bout instead. Nurmagomedov won all five rounds on the judges scorecard to become the champion.
October, 2018 – McGregor returns to fight Nurmagomedov for the title, with a controversial brawl happening afterwards
That Summer, McGregor and the UFC came to an agreement, and McGregor returned as the man who never lost his titles in the ring. He and Nurmagomedov were scheduled to fight in the most personal and bitter feud seen in combat sports in years. They met at UFC 229, with Nurmagomedov winning the bout.
Immediately after, however, Nurmagomedov scaled the Octagon and attacked members of McGregor's team, sparking a brawl both in the cage and at cage side. The Nevada State Athletic Commission suspended both McGregor and Nurmagomedov for incident, with the Russian champion handed a year on the sidelines for his infraction.
April, 2019 – With Ferguson unavailable, Dustin Poirier vs. Max Holloway booked for interim title

With Nurmagomedov out, the UFC once again looked to make an interim championship at lightweight, attempting to book Max Holloway vs. Tony Ferguson for UFC 236 in Atlanta, Georgia.
Unfortunately Ferguson, who'd returned from his gruesome injury with an epic brawl and win over Anthony Pettis (and who still considered himself a champion), was dealing with serious personal issues that meant he was unable to compete. As such, Dustin Poirier, who had been on a career resurgence at 155 after moving up from featherweight, was brought in to play.
Poirier defeated Holloway, earning him what he labelled, 'one piece of the title'.
September, 2019 — And so..
That brings us to this weekend.
Nurmagomedov vs. Poirier are scheduled to go five rounds, with the winner ready to walk out as the undisputed champion. To make things even more secure, Tony Ferguson is reported to be in Abu Dhabi as a back-up should anything happen to either Nurmagomedov or Poirier throughout fight week.
Should Ferguson not be required, both men involved in Saturday's title fight have agreed he is the undeniable next contender, getting the UFC's hardest to predict division back on track.
–
Comments
comments