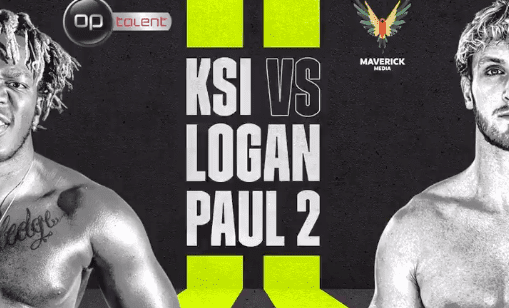 The fight that you didn't know that you wanted to see — and quite probably didn't — is getting a sequel, but this time the stakes (and the paychecks) are higher
Internet celebrities and fame-hungry millennials KSI and Logan Paul have agreed to a rematch to their six-round majority draw from a little over a year ago. The Eddie Hearn-promoted second take will come with increased stakes as both men, who are among the most viewed 'celebrities' on YouTube, will turn pro for the rematch after their first meeting took place in the amateur ranks, which necessitated the use of headgear.
This time around the damage will be real as the headgear is gone, the 10oz gloves are on and the boxing skill is…. limited.
The match, which has backing from DAZN, will take place in the Staples Center in Los Angeles on November 9.
#KSILoganPaul2: 𝙏𝙞𝙢𝙚 𝙏𝙤 𝙎𝙚𝙩𝙩𝙡𝙚 𝙏𝙝𝙚 𝙎𝙘𝙤𝙧𝙚 🔥 pic.twitter.com/0qhGlI7268

— DAZN USA (@DAZN_USA) September 3, 2019
Pro Fight, No Headguards
November 9th, 2019
LA Staples Center@matchroomboxing @dazn_usa #KSILoganPaul2 pic.twitter.com/B7Oxi0VXf3

— KSI (@KSIOlajidebt) September 3, 2019
Finally. @KSIOlajidebt you're fucked.
November 9th, 2019
Staples Center, LA
Pro fight, No headgear @MatchroomBoxing @DAZN_USA #KSILoganPaul2 pic.twitter.com/66l3vgFknD

— Logan Paul (@LoganPaul) September 3, 2019
If schedule allows, will be ringside with my business partner @DillonDanis. https://t.co/FqlhWt53ty

— Scott Coker (@ScottCoker) September 3, 2019
It remains to be seen exactly how successful the rematch will be but Hearn and DAZN's involvement suggests that the bout will be a hugely lucrative affair for all involved. One estimate suggested that the first fight between the two generated around £150 million when all financial avenues, including sponsorships, were tallied.
The first meeting sold in excess of 1 million pay-per-views, making it the most lucrative non-professional boxing match in history — and Eddie Hearn will no doubt be hoping to break more new ground on the second go-around.
Comments
comments