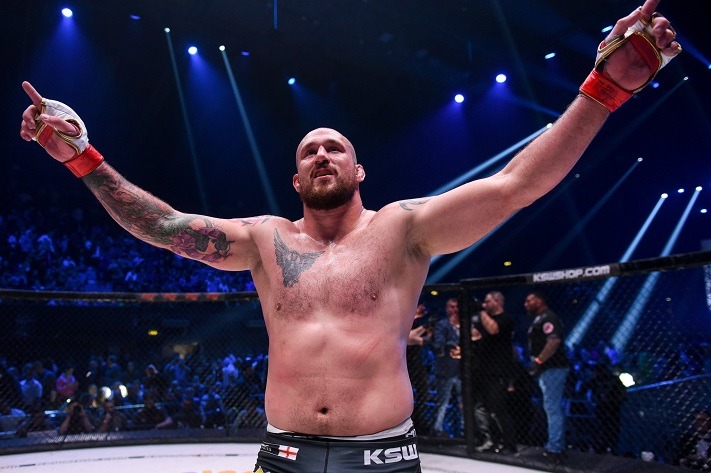 Anxiety makes cowards of us all, a conundrum then, if your chosen profession is one in which fear is essentially an inevitability.
For Phil De Fries, however, it's been a battle long fought prior to entering the cage. Rather, it's been one he's faced his whole life.
"For me, I didn't know I had anxiety. I always had it. I got raised with it. I didn't have the best home life growing up and stuff, so I had this feeling of terror," he said, speaking to TheMacLife. "Absolute terror of everything, especially fighting, but I thought that was totally normal. It never came up in my life, it's something I always had.
"After I got cut from the UFC and had a couple of bad losses outside of the UFC, I was really quite down. Totally insane. I had cameras installed in my bedroom to make sure no one was going to steal me dog. I'd be at work and be like, 'I gotta go home to make sure no one's nicking me dog', or I'd check the door was locked 25 times. I thought, this is not normal.
"I googled irrational fear of everything, and it was like, 'You've got anxiety.. Anxiety, I've heard about that. I got on a prescription and I was so lucky that the prescription fixed me in three months. I had the best luck ever. After that, I haven't lost a fight since."
Indeed, De Fries is on quite tear. Unbeaten in his last ten fights, the Englishman picked up the KSW heavyweight title in April 2018, before knocking off seven challengers, most recently Ricardo Prasel with a first-round submission.
And, while attributing it all to medication would be ignoring hours and hours of work put in at the gym, De Fries has to admit his career life has found a new dawn when compared to the dark days of old.
"When I had anxiety, I didn't learn anything in me fights. Every fight I have now, I feel like I'm getting better, I'm more composed, I can think better," said De Fries. "I feel like a world-beater right now, and that performance [against Prasel] kind of showed that.
"I'm better in the gym. I couldn't learn really. That's why I had such a poor showing in the UFC, I was terrified of any sort of striking. I would think, throw a jab, but if I throw a jab, he'll do this and then I'll get knocked out so I'd end up doing nothing, and nothing's the worst thing you can do.
"I kind of got by on my physicality and my grappling ability. I'm a very tenacious grappler, and that's because I was so scared of striking, I wanted to stick to you like glue. I'm better all around. I'm a better person. I couldn't engage in a conversation, I was probably a bit of a dick really."
Looking to the future, he's made no secret of his next target. Former strongman, and fan favourite, Mariusz Pudzianowski. It's a callout based on fun and funds. It's one he's even prepared throw in some stipulations to entice the Pole, so long as some stipends get thrown back.
"He's got the big name, he's on a five-fight win streak, he's the huge fight," he said. "It's the fight everybody in Poland wants. He is a tough fight, I'll be heavy favourite, but I'd be up for making that no takedown rule. I'd shake his hand, it'll still be an MMA fight for the titles, but I'll shake his hand, scout's honour, no takedowns, just pay me some extra money. Over there he's like a God. He's a national icon. It's mad."
As of right now, there's one fight left on the KSW deal, before De Fries heads into the open market looking for the best number to support his family, "I'm all about the cash these days now," he cracks).
But whatever happens, whichever way the wars in the arena go, the one waged — and won — at home was the most important of all.
"I'm just a better person now," De Fries said. "I'm a better dad, a better partner to my girlfriend, better fighter, and a better friend. It's much happier times."
Comments
comments