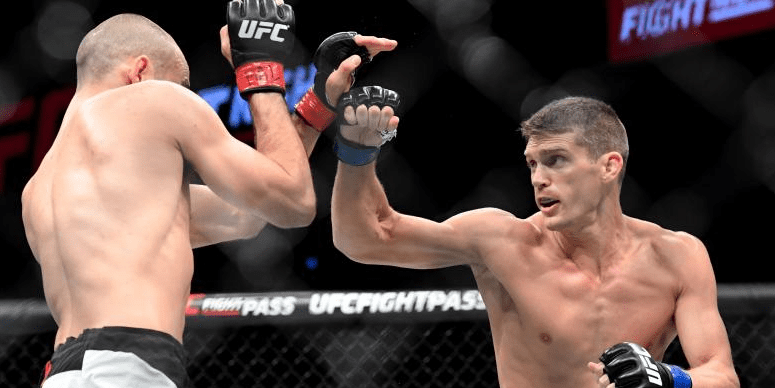 Stephen Thompson's loss to Darren Till in Liverpool last month has left the American with a few hangovers. First, he has been forced down a few rungs on the title ladder at 170-pounds and second, a torn MCL which he suffered following a sidekick to the knee – and he has become of the opinion that this particular technique should be outlawed from mixed martial arts competition.
"You know, there was one thing that really slowed me down during the fight and that was the side kick to the knee," Thompson said via BJPenn.com.
"It caught me just right in the center of the knee in the first or second round. I believe it was the second round if I remember correctly. But yeah man I heard some cracking and popping and it slowed me down tremendously so it was hard for me to move around the way I wanted to. I was also worried that if he hit it again the fight would be over. Not just that but also my career. It would have been devastating to tear my ACL for a second time. But yeah after watching the fight, you know, there's always something you can go back and work on.
"You know I tore my MCL in the fight with Till," Thompson elaborated. "We did an MRI and thankfully nothing else was damaged. No surgery is required for this injury but I have to give it at least eight weeks to heal properly before I can get back to training."
The fight was a close one, with many observers thinking the American did enough to outpoint Till in his hometown but the razor-close decision went to the Brit, leaving Thompson wondering if the kicks to the knee proved to be the difference.
"I honestly think that strike should be made illegal," Thompson said. "It could end somebody's career. You know Robert Whittaker had to have ACL surgery following his first fight with Yoel Romero due to that particular strike. And as you could see, Robert Whittaker made sure to beat Yoel Romero to the punch in their second fight. He threw a lot more than he did this time around. It is just a very dangerous technique.
"I think a lot of fighters throw that strike but sometimes it is for different reasons. When I fought Jorge Masvidal he used that same side kick to the knee. But when Jorge threw it, he was doing so just to keep me away. Not in an attempt to injure my knee. But when I was in the cage fighting Till it felt like, 'Okay this guy is trying to break my leg.' It was like he had intentions of ripping everything out in my knee. That's how I felt anyway. Like this dude is really trying to injure me in here. I think it an ugly strike and that it should be made illegal."
Comments
comments