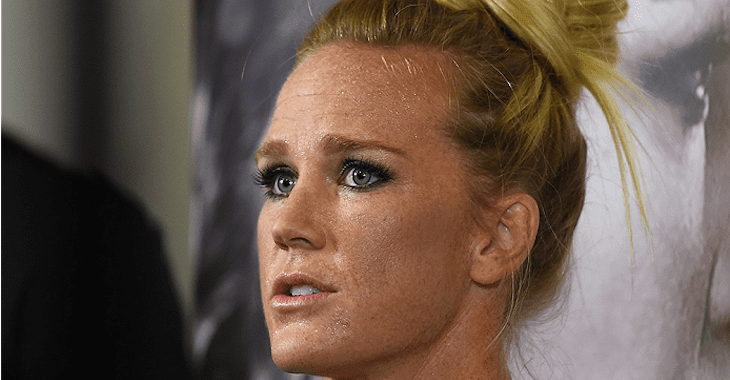 Holly Holm isn't satisfied with the result of UFC 208, and will be appealing the result with the New York Athletic Commission.
Holm was hit by opponent Germaine de Randamie after the bell not once, but twice on Saturday night. The fact that the referee did not dock de Randamie of a point on either occasion has left many feeling — including Holm — that the result was tainted.
As such, Holm has officially filed an appeal. MMAFighting first reported the news.
Filed by Holm's legal representation, the complaint (which can be read in full here) states that:
"Ms. Holm seeks review of Referee Todd Anderson's failure to deduct one or more points from Germaine de Randamie following her repeated strikes thrown after the horn sounded to end Rounds 2 and 3. Section 212.10(b)(27) of the New York State Athletic Commission (NYSAC) Regulations provides that attacking an opponent after the bell has sounded the end of the period of competition constitutes a foul in a professional mixed martial arts contest.
"Had referee Anderson complied with NYSAC Regulations and deducted points from de Randamie in accordance with Section 212.10 through 212.11, the UFC 208 Featherweight Title fight would have resulted in a draw, if not a win, for Ms. Holm."
Following the bout on Saturday night, despite de Randamie's insistence to the contary, Holm made it clear that she felt the illegal strikes had been deliberate.
"It wasn't like the last punch of a combination when the bell rang, it was intentional. It was after the bell," Holm said post-fight. "I mean some of her best shots of the night were after the bell, I don't know how the judges saw that. If they see that as points for her then what can you do? I should have kept fighting too then."
Since the fight, de Randamie has publicly stated she would be open to a rematch with Holm in order to resolve the controversy. In response, Holm and her team have made it clear it's a fight that the former bantamweight champion would happily accept.
Comments
comments