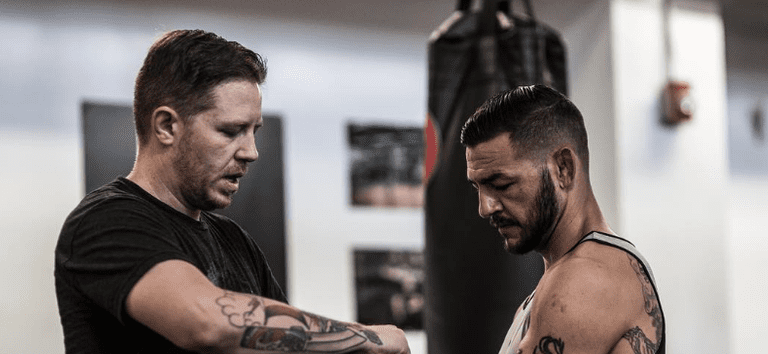 When the UFC announced and implemented their digital streaming service UFC Fight Pass (perhaps best described as a 'Netflix for UFC content'), it was believed that fans were the users in mind.
Yesterday, however, it was revealed that MMA's premiere promotion has put a stop to a long time practise of providing athlete teams with fight tape and instead requested they too sign up to the digital service.
The move became public after coach Brandon Gibson of the iconic JacksonWink MMA, who took to social media to announce that the UFC had not only denied him access to fight footage of an upcoming opponent, but instead replied that the UFC need to "encourage [coaches] to go to Fight Pass first to seek out their opponent's past fights."
"Yesterday I received an email from a UFC employee stating that we'd no longer be provided with links for fighter opponent film to study," Gibson said, speaking to TheMacLife. "A few years ago the UFC would send camps DVD's for UFC fights that we requested. Probably 4 years ago the policy switched to the UFC providing us with zip file download links for the fight tape that we requested. From there I'd download the fights onto a DVD, and the coaching staff and fighters could study the film together."
I just got an email from the UFC saying that fight tape will no longer be available to coaches and fighters and I need to use Fight Pass.

— Brandon Gibson (@SixGunGibson) February 14, 2017
While it's believed that current UFC athletes are gifted a Fight Pass membership, their coaches and teammates are not. But according to Gibson, the issue is not the newly needed subscription, it's more that the Fight Pass service simply isn't at the sufficient level — both in available content and a lack of a user-friendly interface — required to offer coaches what they need.
At present, for example, depending on the event on which a bout featured, fights can take anywhere from 30 to 90 days to appear on the site.
"Fight Pass has its limitations," Gibson said. "Not every fight is available, searching for specific fights can be very time consuming, and each platform has a different set of functionality limitations as well. You look at other professional sport leagues like the NFL and the NBA, and the coaches and players have access to whatever film they need."
And while a primary concern is that the new direction offers a large inconvenience to preparations in fight camp, there are also potential cons for the UFC themselves.
Studying fight tape is something of an art in itself, offering fighters and their teams a look at the various traits of opponents. With that footage available, camps can then build and create specific plans to counter and hit back with a technical advantage — all things that Gibson says helps to put on better fights.
Fight Pass isn't really a solution for top level coaches that really study & break down tape like @MarkCoachmark13 & @GregJacksonMMA.

— Brandon Gibson (@SixGunGibson) February 15, 2017
"Last year I trained and cornered 3 of the top 10 knockouts of the year," he said. "This was done by spending a lot of time breaking down film of our opponents, developing a game plan, and putting in countless hours of practice. Film study by coaches and fighters leads to a better product for the fans."
At the end of the day, Gibson believes he and the rest of JacksonWink will find a way to make things work. The problem is that the new policy feels like the latest in a long line of business decisions by the promotion that seem to to hinder, not help, their athletes succeed.
"I'll make do with fight pass. It's not the biggest deal," Gibson said. "I'm more irritated with the support the UFC gives the fighters and camps. I think at times the UFC loses sight about what it takes to really train top level fighters."
Comments
comments